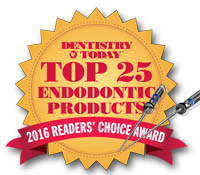 Length of treatment was drastically reduced. It truly has simplified endodontics! - Janet Williams, DDS - Hempstead NY
S. Hackensack, NJ (PRWEB) April 07, 2016
Tango-Endo (Essential Dental Systems) received the 2016 Top 25 Products Award by Dentistry Today. Dentistry Today's Top Products are selected based on reader response, and represent whats new and innovative in the dental industry today.
Tango-Endo – It Only Takes Two
With new Tango-Endo, it only takes two instruments. Tough and reusable Tango-Endo instruments boast a unique patented flat along the entire length. This flat, allows for faster engagement with less resistance, increased flexibility without sacrificing strength, and virtually eliminates instrument separation.
The Tango-Endo system includes its own reciprocating handpiece. The latch-type handpiece is designed to aid in the prevention of binding, and to assist in the preservation the canals unique anatomy. The kit also includes precision matched gutta percha points – for the perfect fit.
The Tango-Endo Introductory Kit is available immediately click the link for more information and ordering: http://edsdental.com/tangoendo/.
For more information, visit http://www.edsdental.com or call 201-487-9090.