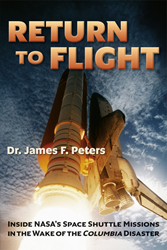 Amazing True Life Story
Houston, Texas (PRWEB) March 30, 2016
"Return to Flight" is a true-life story that involves a historical shuttle disaster that killed seven astronauts. The story describes the passion and dedication from the men and women who, in the wake of the Columbia disaster, supported this nation's Manned Space Program and strived to make the next Shuttle mission the safest ever flown. It is narrated by Dr. James F. Peters, who served as the Shuttle Debris Integration Chair. He was responsible for correcting the debris problems that led to the Columbia Accident on STS-107 and Returning the Shuttle Fleet to operational flight status. During the first Return to Flight mission, STS-114, he led a large team of NASA engineers and contractors dedicated toward working and solving debris issues. The very existence of the Shuttle Program hinged in the balance. The debris team did the difficult and when asked to do the impossible, it just took them a little longer.
According to Rick Sturdevant from Space Times, "Return to Flight offers the expert and lay reader alike valuable insights to how the Space Shuttle program recovered from the Columbia disaster. Mindful of the centrality of humans to historical narration, Dr. Peters superbly describes the personalities and talents of many people he encountered – or with whom he worked – to return the shuttle fleet to flight status." Mr. Sturdevant from "Space Times" is an AAS Fellow and deputy director of history for Air Force Space Command at Peterson AFB in Colorado Springs, Colorado.
The Columbia accident was a major disaster, from which it took a monumental effort to recover. After the accident in February, 2003, debris was identified as the highest risk to the Shuttle Program and remained the number one safety of flight issue for the next eleven flights. Each successive mission posed its own set of unique debris surprises and the only thing the debris team could count on was the unexpected. Despite the numerous debris challenges for each Return to Flight mission, intense pressure, and criticism from both inside and outside the agency, the team remained focused and steadfast in their efforts to work the issues, solve the problems and keep the Shuttle flying.
About the Author
Dr. Peters has over 25 years of manned spaceflight experience and was the Shuttle Debris Integration Chair during the Space Shuttle Return to Flight missions. Jim is currently working for NASA on the Commercial Crew Program at Johnson Space Center. Prior to NASA, Jim was a nuclear submarine officer on the USS Hyman G. Rickover and graduate of the US Naval Academy where he was an All-American wrestler. He is also a Professor at Embry-Riddle University and Managing Partner at Quasar Data Center. Jim is married to wife Brenda and has two daughters, Keirnan and Jordyn.
For more information about Return to Flight or other author requests, please visit http://www.returntoflight.com or contact Dr. Peters at jpeters(at)quasardata(dot)com or 281-773-3604.