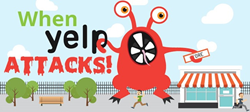 Yelp is like fire. It can heat up your business if you control it, or burn it to the ground if you ignore it. Kamron Karington
Las Vegas, NV (PRWEB) March 30, 2016
Repeat Returns, a leading digital marketing provider to thousands of independent retailers and multi-unit restaurant chains, today announced the expansion of its Yelp Reputation Management Service from its current client base to all merchants.
Kamron Karington, Repeat Returns CEO says: "We released the 'When Yelp Attacks' infographic last year to help small business owners properly engage with their Yelp profile and understand that even bad reviews are helpful as long as there are few and they are responded to appropriately."
Unfortunately, many owners still see Yelp as nothing more than a public soapbox where anyone can trash their business for the slightest misstep - so they ignore it – or worse, respond combatively. The fact is, people searching Yelp are ready to spend and with a little nurturing, your profile can be a magnet for new customers.
Current Repeat Returns' clients using the service are overwhelmingly seeing Yelp in a new customer-drawing light. Their success is the driving force behind today's announcement, opening the service to all merchants.
Karington says, "It's not only about Yelp's powerful tools, but appropriately responding to the different personality types leaving reviews."
The Repeat Returns' service, now expanded to all business owners, goes beyond claiming, configuring, and enhancing a Yelp page; it includes review management and response.
"Yelp is like fire. It can heat up your business if you control it, or burn it to the ground if you ignore it. And right now, way too many merchants are turning a blind eye to this customer-attracting juggernaut," adds Karington.
It's something that's needed and our hope is that many more merchants will embrace their Yelp profile as a profit center.
About Repeat Returns
Repeat Returns provides data-driven, automated marketing to retail, service, restaurant and pizzeria owners worldwide. For more information on Repeat Returns and their all-in-one marketing solution visit: http://www.repeatreturns.com.