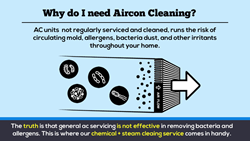 Singapore (PRWEB) March 31, 2016
Aircon Servicing Singapore helps Singapore residents prepare for hot weather ahead. With the National Environmental Agency warning of higher than average temperatures until the end of March, the company is offering a special two in one deal for aircon chemical and steam cleaning to prepare residents for the hot days ahead.
The Straits Times reports that the NEA are forecasting temperatures will rise as high as 36 degrees Celsius in the later half of March, with many days peaking around the 34 degree mark. Reference: http://www.straitstimes.com/singapore/warmer-days-likely-over-next-2-weeks-nea
The NEA are attributing the high temperatures to the influence of the El Nino weather phenomenon - an abnormal weather pattern involving the warming of the Pacific Ocean near the equator, the presence of a dry and warm air mass over the region and the occurrence of the equinox.
A spokesperson for Aircon Servicing believes many residents have not prepared their aircon for the higher than usual temperatures and will find their units struggling to keep their homes and businesses cool in the days ahead. "In a city where overnight temperatures rarely dip below 25 degrees Celsius, air conditioning is not a luxury in Singapore but is a crucial part of life," the spokesperson said.
"Despite this, many residents are unaware that their aircon requires routine servicing to maintain their efficiency, and without this can cause problems such as leaking, poor cooling, bad smells and even sickness. Many people are unaware that without regular cleaning, aircons can contain allergens and bacteria which can make you and your family sick. A routine service from your local Aircon Servicing technician can identify the problem and quickly remedy it, ensuring you and your family get some relief from the hot days ahead, and most importantly stay protected from sickness." Reference: https://www.aircon-servicing.sg/can-air-conditioners-make-you-sick/
The company is offering free steam cleaning along with their popular anti-bacterial chemical cleaning package to make a value for money two in one cleaning product. This package is recommended for the average wall mounted aircon unit and comes with a 90 day warranty.
The two in one chemical cleaning package is just one of the many aircon services the company has to offer, including general aircon servicing, aircon overhaul wash and gas top up services. With skilled technicians, the company prides itself on providing the highest quality of aircon repair in Singapore. Feel free to drop them an email or call to enquire for the latest aircon servicing promotions and deals.
Aircon Servicing Singapore has more than 15 years in the aircon industry and has gained the reputation as a leader in professional aircon services in Singapore.
https://www.aircon-servicing.sg