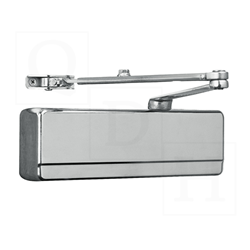 West Babylon, New York (PRWEB) March 31, 2016
Quality Door & Hardware announces its choice of the Sargent lines of Aluminum Surface Door Closers as its featured product for March 2016. Specifically highlighted are: the Sargent 351 Powerglide line; the Sargent 1431 Series and the Sargent 1130 Economy line of Aluminum Surface Door Closers.
The Sargent 351 Powerglide line of aluminum surface door closers has been engineered to meet the demands of architects and building owners for use with interior and exterior doors for quality and flexibility in virtually every application. The Sargent 351 line features heavy duty forged steel arms, which are interchangeable with the Sargent 1431 and 281 series closers. These Sargent 351 series aluminum closers are rated Grade 1, Heavy Duty.
The Sargent 1431 Series of aluminum door closers features a full compliment of arm types and front-facing valves making installation and maintenance easy. These fine quality Grade 1, Heavy Duty closers have a ten year warranty and meet ADA requirements in all applications. The 1431 line of surface closers features all weather fluid, which allows these surface closers to operate effectively in extreme temperatures without the need for readjustment.
For economy, the obvious choice is the Sargent 1130 series of reversible, non-handed aluminum surface door closers. The Sargent 1130 series surface door closers feature full rack and pinon operation; high strength aluminum cases; and separate key controlled regulating valves for door closing and latching speeds. The Sargent 1130 series closers are available in your choice of three finishes-aluminum enamel; bronze enamel and brass enamel.
Quality Door & Hardware invites you to learn more about these excellent lines of Sargent Aluminum Surface Door Closers by visiting our site at: http://www.qualitydoor.com. Quality Door offers these Sargent Aluminum Surface Door Closers at everyday competitive prices and each purchase is backed by our unparalleled customer service. Please visit us today and experience for your self "the difference that 'Quality' can make in your business.