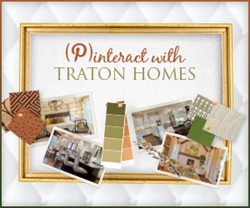 Atlanta, GA (PRWEB) March 30, 2016
mRELEVANCE, LLC just wrapped up a Pinterest campaign for Traton Homes. Running from Feb. 17 to March 7, 2016, (P)interact with Traton Homes helped celebrate the opening of the builder's new designer model homes and encouraged (p)interaction on social media.
"In addition to promoting our new model homes, we wanted to take the opportunity to increase activity on our social sites," explained Kimberly Garwood, director of marketing for Traton Homes. "(P)interact with Traton Homes did just that! Plus, contestants were able to have fun too. It was certainly exciting and gave us a great launching point to start announcing our new models on social."
To enter, participants created Pinterest boards showing how they would decorate the home of their dreams. After checking out the builder's Pinterest boards for inspiration, participants pinned their favorite images along with the hashtag #TratonHomesPinteractContest.
The top four boards were posted to Traton Homes' Facebook page on Feb. 26. Those four participants each won a $50 HomeGoods gift card and were encouraged to promote their boards on Facebook. The two boards with the most votes, or likes, comments and shares, by March 2 went into the final round.
The two finalists worked hard to get their friends to vote by (p)interacting on Facebook. With 35 likes, 13 shares and 35 comments, the winner received a $250 HomeGoods gift card.
The Reserve at Old Atlanta and Vinings Parc East model homes served as inspiration from the beginning. mRELEVANCE incorporated the color palettes and fabric swatches from the homes into the graphics to provide continuity between what consumers see online and onsite. These beautiful graphical pieces were used in email marketing and in combination with Facebook advertising, social media promotion and blogging to make the campaign a success.
The successful campaign helped new home builder Traton Homes gain new Pinterest followers: 379 followers for the (P)interact with Traton Homes board, 379 followers for The Reserve at Old Atlanta board and 376 followers of the Vinings Parc East board. Facebook Reach increased by 100 times (from an average of 300 per post to 30,000), and interactions and engagement on contest related posts increased by more than 100-percent. Additionally, traffic to the Traton Homes Blog increased during the campaign – 21 percent of this traffic was from Pinterest and 81 percent of the sessions were first time blog visitors.
For more details about (P)interact with Traton Homes, click here. To learn more about social media campaigns, please contact mRELEVANCE at 770-383-3360 or visit http://www.MarketingRELEVANCE.com.
About Marketing RELEVANCE: mRELEVANCE, LLC creates relevant marketing and communications that reach audiences with focused and strategic messages. Through technology and creative content, messages are delivered to target markets to encourage customer action and interaction.
With offices in Atlanta and Chicago, mRELEVANCE can connect your company with buyers and build relevant relationships nationwide. For more information, visit http://www.MarketingRELEVANCE.com, Like us on Facebook at http://www.Facebook.com/mRELEVANCE, Follow us on Twitter at @mRELEVANCE or call 770-383-3360 or 847-259-7312.