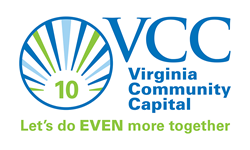 "We are using our business as a force for good in our communities by investing capital to address social challenges such as healthcare, housing, food access, energy efficiency, and job creation."
Richmond, Virginia (PRWEB) April 04, 2016
Virginia Community Capital ("VCC") announces that it has converted its wholly-owned, FDIC-insured, for-profit bank into a Benefit Corporation. VCC's is the first regulated bank in the United States of America to become a Benefit Corporation. The conversion will attract new investors to help communities and people all across the Commonwealth of Virginia prosper. The conversion does not affect the bank's status as a state-chartered banking corporation.
Since its founding in 2006, VCC has invested in 488 projects with a total economic impact of $766 million and 4,997 new and retained jobs. The conversion to a Benefit Corporation will allow the bank, within its banking charter, to better align its long-term mission and create value by making additional commitments to higher standards of purpose, accountability, and transparency. All of which VCC has been doing for the past 10 years. To view VCC's 10 year return on investment report click here.
"This is a tremendous day both for the banking industry and the Benefit Corporation movement," said Jane Henderson, President and CEO of VCC. "We are using our business as a force for good in our communities by investing capital to address social challenges such as healthcare, housing, food access, energy efficiency, and job creation."
VCC's conversion was conducted in partnership with B Lab, the global nonprofit organization that assists companies to meet the highest standards of verified, overall social and environmental performance, public transparency, and legal accountability. There are currently 1,659 Certified B Corporations and 192 registered Benefit Corporations across 47 countries and in 130 industries. Benefit Corporations are stock corporations with at least one mission of creating a general public benefit such as a positive impact on society or the environment, as measured by a third-party standard.
Rick Alexander, Head of Legal Policy at B Lab, commented on VCC's conversion, "As the first federally regulated bank in the U.S. to become a Benefit Corporation, VCC has set a new model for the financial industry. They are creating the path for more banking institutions to act as forces for good and create long term value for shareholders and society."
VCC is now able to provide individual and institutional investors with greater access to impact investing opportunities in a safe, secure method. Partner financial institutions who have invested in VCC include Goldman Sachs, Capital One, Bank of America, Wells Fargo, BB&T, SunTrust, Bank of Botetourt, among others. Their investments have focused on VCC's three main areas of impact investing: job growth and retention, quality of life, and creating vibrant communities.
Inspired by Sunrise Community Banks, the holding company for St. Paul, MN-based Sunrise Banks, which became the first benefit corporation bank holding company, VCC hopes to inspire other regulated banks across the United States by being a model of success for them to follow. VCC is now working with B Lab to help other regulated banks go through the process.
"We congratulate our friends at VCC on this incredible accomplishment," said David Reiling, Chief Executive Officer of Sunrise Banks. "Empowering our communities by being an active and responsible corporate citizen is at the heart of who Sunrise is and who VCC is as well. We look forward to working with them on inspiring other financial service industry leaders to address a variety of social challenges."
Over the last decade, VCC has supported housing and community development ventures, increased jobs, and built sustainable communities by offering flexible financial products and advisory services throughout Virginia. Among those investments include the community revitalization of Floyd (Floyd, Va.), the expansion of the Essel Propack America plant (Danville, Va.), Pioneer Community Hospital of Patrick (Stuart, Va.), the Masonic Theatre (Clifton Forge, Va.), the Robert Russa Moton Museum (Farmville, Va.), and hundreds of others.
VCC is a leader in impact investing in Virginia. Impact investments are investments made to generate social and environmental impact alongside financial return. The growing impact investing market provides capital to address global social challenges such as healthcare, housing, food access, energy efficiency, and job creation. VCC has been able to accomplish this through partner financial institutions that have invested in them, including Goldman Sachs, Capital One, Bank of America, Wells Fargo, and foundations such as the Jessie Ball duPont Fund.
About Virginia Community Capital:
With offices in Christiansburg, Richmond, and Norfolk, Virginia Community Capital (VCC) is dedicated to the prospect of building wealth for all through our lending, deposits, and advisory services. As a community development financial institution (CDFI), our mission is to offer innovative, flexible financial products designed to support housing and community development ventures, increase jobs, and encourage sustainable communities. In partnership with our for-profit bank, Community Capital Bank of Virginia, VCC offers loan capital broader and more flexible than bank lending in low-to-moderate income communities in underserved geographies and markets. Learn more at vacommunitycapital.org.
###