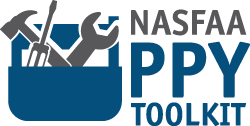 New, comprehensive toolkit offers resources to help college administrators and other interested parties explain the upcoming FAFSA changes to students and families.
Washington, DC (PRWEB) March 30, 2016
Great news college students: President Obama's announcement last fall that tax information from two-years prior may be used on future iterations of the Free Application for Federal Student Aid (FAFSA) will allow you to file the FAFSA earlier and more easily, and receive earlier notification of financial aid awards. The first "early FAFSA" will be available October 1, 2016, for the 2017-18 processing cycle.
"The move to using prior-prior year (PPY) income on the FAFSA is a huge win for students, and the move was one long called for by financial aid professionals and NASFAA," said National Association of Student Financial Aid Administrators' (NASFAA) President Justin Draeger. "But – as with any large scale change in federal financial aid methodology – the devil is in the details in terms of implementing the change and helping students understand how they will benefit."
To help with the transition to the early FAFSA and PPY, NASFAA's PPY Implementation Task Force – composed of aid administrators from across the nation – has created a comprehensive toolkit filled with resources to help college administrators and other interested parties explain the changes to students and families.
Pieces are still being added to the toolkit, but to date it includes:

an open letter to share with senior administrators and partners on campus;
a chart outlining what data elements will and will not change under a move to PPY;
a recommended best practices document;
an implementation timeline;
links to prior research conducted by NASFAA; and
an external resources section.
NASFAA has long been interested in ways to make the overall application experience, including FAFSA fill-out, simpler and more efficient for students and families. In summer 2014, NASFAA convened a FAFSA Working Group to develop a model that would simplify the application process while still ensuring program integrity and accurate targeting of federal funds. A move to PPY was one of the key recommendations made in the working group's July 2015 final report.
The FAFSA Working Group also recommended that the form be pared down to require basic personal identifiers, demographic information, and questions necessary to determine the applicant's dependency status. After those basic questions are answered, the group recommended students then be directed to one of three simplified application paths based on their individual situation.
"The president's move to implement PPY has cleared the path to implement these next-step simplification measures," Draeger said. "NASFAA looks forward to working with policymakers to further streamline the aid application process for families and is pleased to offer resources to ease the strain of transitioning to the early FAFSA and using prior-prior year income information."
To request an interview with a NASFAA spokesperson, please email news(at)nasfaa(dot)org or call (202) 785-0453.
About NASFAA
The National Association of Student Financial Aid Administrators (NASFAA) is a nonprofit membership organization that represents more than 20,000 financial aid professionals at nearly 3,000 colleges, universities, and career schools across the country. NASFAA member institutions serve nine out of every ten undergraduates in the United States. Based in Washington, D.C., NASFAA is the only national association with a primary focus on student aid legislation, regulatory analysis, and training for financial aid administrators. For more information, visit http://www.nasfaa.org.