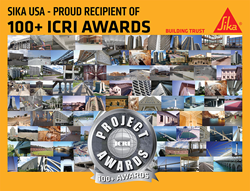 Sika is proud to be the first company to win more than 100 Project Awards. We thank you and celebrate this moment of success with you.
Lyndhurst, NJ (PRWEB) April 05, 2016
Sika is honored to be the first company to achieve a significant milestone with an important industry partner, the International Concrete Repair Institute. Sika's proud to be the first company to win more than 100 Project Awards and celebrates this moment of success with the industry. Sika is humbled to be recognized by peers and customers as a leader in the concrete repair industry and takes great pride in this achievement.
Everyday, Sika builds trust with superior quality and innovative products that are supported by expert technical and customer service teams.
A special thanks goes out to the Concrete Repair Institute for sharing the vision of excellence in concrete repair and to Sika sales and service teams for making it happen.
Check out Sika's award winning projects at usa.sika.com
About Sika: Sika AG, located in Baar, Switzerland, is a globally active specialty chemicals company. Sika supplies the building and construction industry as well as manufacturing industries (automotive, bus, truck, rail, solar and wind power plants, façades). Sika's product lines feature high‐quality concrete admixtures, specialty mortars, sealants and adhesives, damping and reinforcing materials, structural strengthening systems, industrial flooring, as well as roofing and waterproofing systems. Worldwide local presence in 90 countries and more than 16,895 employees link customers directly to Sika and guarantee the success of all partners. Sika generated annual sales of CHF 5.57 billion in 2014.