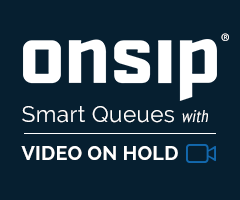 OnSIP Smart Queues pave the way for the next generation of video calling, including video on hold.
NEW YORK, NY (PRWEB) March 30, 2016
Unified Communications as a Service (UCaas) provider OnSIP announced today that TMC, a global, integrated media company helping clients build communities in print, in person and online, has named OnSIP Smart Queues as a 2016 WebRTC Product of the Year Award winner.
A second time recipient of this award, OnSIP has leveraged WebRTC to reimagine the Automatic Call Distribution (ACD) queue, delivering both businesses and their callers a groundbreaking queue experience. With OnSIP® Smart Queues:

Queue callers can watch a YouTube video as they wait in the queue instead of hearing standard on hold music. With Video on Hold, businesses can play commercials, educational clips, and social videos. When a representative picks up, the queue video is replaced with the live video chat session.
Managers can supervise real-time queue activity and monitor, whisper, and barge into a call right from their browser.
Agents can accept HD voice and video calls from the queue right from their browser.
The heart of these capabilities is the OnSIP app. Free to customers, the OnSIP app is a browser interface that can complement or fully replace the business deskphone. It is a one-stop application for video chat, extension dialing, PSTN calling, team presence, voicemail management, and the Smart Queue dashboard.
"This is our second WebRTC Product of the Year Award, which shows our commitment to this technology," said Mike Oeth, CEO and Cofounder of OnSIP. "OnSIP Smart Queues pave the way for the next generation of video calling, including video on hold. Additionally, we just launched version 2.0 of the OnSIP app with a new user-centric interface. This is the future."
With the OnSIP app and Smart Queues, OnSIP is on the forefront of the web-based unified communications movement alongside platforms such as Skype for Business and Dialpad. These applications digitize and simplify the phone system, require no hardware, and blend the lines between the traditional PBX and modern business collaboration. OnSIP has just added call center functionality to this space with Smart Queues.
"It gives me great pleasure to honor OnSIP as a 2016 recipient of the WebRTC Product of the Year Award for their innovative product, Smart Queues," said Rich Tehrani, CEO, TMC. "Our judges were very impressed with the ingenuity and excellence displayed by OnSIP in their groundbreaking work on Smart Queues."
Click here for more information about Smart Queues.
About OnSIP
Founded in 2004, OnSIP is a leading provider of Unified Communications as a Service (UCaaS) to over 45,000 businesses. OnSIP® business VoIP phone service customers enjoy the benefits of an on-demand phone system without the traditional high cost, burden, and inflexibility. The company also offers a cloud platform and simple APIs for developers to rapidly and affordably build real-time communications applications of their own. For more information, visit http://www.onsip.com.
About TMC
Global buyers rely on TMC's content-driven marketplaces to make purchase decisions and navigate markets. This presents branding, thought leadership and lead generation opportunities for vendors/sellers.
TMC's Marketplaces:

Unique, turnkey Online Communities boost search results, establish market validation, elevate brands and thought leadership, while minimizing ad-blocking.
Custom Lead Programs uncover sales opportunities and build databases.
In-Person and Online Events boost brands, enhance thought leadership and generate leads.
Publications, Display Advertising and Newsletters bolster brand reputations.
Custom Content provides expertly ghost-crafted blogs, press releases, articles and marketing collateral to help with SEO, branding, and overall marketing efforts.
Comprehensive Event and Road Show Management Services help companies meet potential clients and generate leads face-to-face.
For more information about TMC and to learn how we can help you reach your marketing goals, please visit http://www.tmcnet.com.
OnSIP Contact:
Joseph DeBari
Lead, Product Marketing & PR
212-933-9190, ext. 7012
joe(at)onsip(dot)com
TMC Contact:
Rebecca Conyngham
Marketing Manager
203-852-6800, ext. 287
rconyngham(at)tmcnet(dot)com