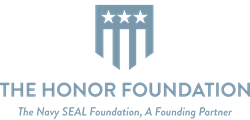 "We were drawn to THF's innovative strategy, committed leadership team and data-driven approach to achieving their goals. While 21 million men and women have served, less than 1% of charitable giving benefits veterans, " says Laura Arrillaga-Andreessen
San Diego, CA (PRWEB) March 30, 2016
The Honor Foundation, a non-profit transition institute that provides executive education, professional development, career coaching, and transition management for members of the Navy Special Warfare and Special Operations Forces communities, has just received a grant from Marc and Laura Andreessen. Marc Andreessen has achieved wide success as a technology magnate and venture capitalist in Silicon Valley, most well known through his venture capitalist firm, Andreessen Horowitz. His wife, Laura Arrillaga-Andreessen, is a well-known philanthropist and educator, and founder of the Stanford Center on Philanthropy and Civil Society.
This seed investment will help fund a revolutionary data platform for the organization that will include a Transition Readiness Assessment and a data/impact interface that will evaluate and improve program performance. Over the course of the next year, The Honor Foundation [THF] will use the $75,000 grant to achieve the following two outcomes:

Development and implementation of real-time data interface to better monitor, evaluate, and act upon organizational and individual and program needs
Creation, validation, and implementation of a transition readiness assessment to evaluate all Fellows' [students] self-perceived readiness and provide better individualized coaching and evaluate each Fellow's progress while completing the program at THF.
These outcomes will enable THF to track impact in near real time.
"Marc and I are deeply committed to helping veterans, their families and the companies they work for achieve their full potential. THF is a natural partner for this critical social need—we were thrilled to find an organization that is as obsessed with metrics and measurable impact as we are," says Laura Arrillaga-Andreessen. "We were drawn to THF's innovative strategy, committed leadership team and data-driven approach to achieving their goals. While 21 million men and women have served, less than 1% of charitable giving benefits veterans. We have an extraordinary opportunity to better support those who have given extraordinarily to our country."
THF has partnered with VirBELA, an educational design organization that provides innovative learning technologies to enhance global educational experiences that empower individuals, teams, and organizations, to develop the technology funded by the Andreessens.
"Anyone who has had the opportunity to watch the transition Fellows go through during THF's program needs no further data to see the impact this program has. It is remarkable," says Alex Howland, founder of VirBELA. "With that said, VirBELA is honored to help THF empirically measure impact, leverage data to provide personalized career coaching, and drive insights on how THF can make the program even better."
"The Honor Foundation has relied on our relationship with Silicon Valley businesses as integral to our curriculum, mentorship programs, and ultimate career success of our Fellows since we began," explains Joe Musselman, CEO and Founder of THF. "A grant from one of the vanguards of both technology investment and philanthropy such as the Andreessens is a tremendous affirmation of our long-term vision for the organization both in the Valley and beyond. It's a true honor to receive."
THF will begin work on the new data platform immediately.
About The Honor Foundation
The Honor Foundation provides executive education, professional development, career coaching, and transition management to US Special Operations Forces. As the creators of the first-of-its-kind transition institute for the US Special Operations Forces (SOF) community, The Honor Foundation collaborates closely with the Special Operations Forces community, top business schools and America's finest companies in order to support veterans from the Naval Special Warfare (NSW) community as they move into the next phase of their careers.
The leader within its space, in 2012 The Honor Foundation identified the need for a transition program that is tailored to the experience levels and skill set of those in the Special Operations Forces military who were seeking their next great adventure in the private sector. The Honor Foundation's founder, Joe Musselman, interviewed over two-hundred Navy SEALs in 2013 who had recently transitioned into the private sector. He discovered that the most pressing need reported by this group study was professional development and transition. Due to the nature of their workup and deployment schedule, of the group surveyed, less than thirteen-percent had job offers on the table by their end of service date. Recognizing this critical need, The Honor Foundation created the first Professional Development and Transition Institute for the Navy SEAL and US Special Operations Forces community. Recently coming on board as a Founding Partner, The Navy SEAL Foundation has collaborated closely alongside its members, America's finest companies, top business schools, and leading entrepreneurs in order to create a new community post the community for our nation's elite.