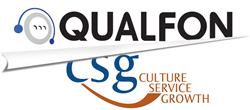 We are two families with a shared culture that become a stronger organization together.
San Antonio, Texas (PRWEB) April 04, 2016
Qualfon, a leading business process outsourcing (BPO) and contact center service provider, announced today that it has acquired Culture.Service.Growth (CSG), a contact center services company based in San Antonio, Texas. CSG has 700 employees that offer customer service, sales, and back-office solutions to insurance, logistics, and retail clients. Qualfon acquired the company as part of its growth strategy to expand services in additional industries and add companies with a similar person-first culture.
CSG will operate as a fully integrated part of Qualfon. As a result of the CSG acquisition, Qualfon will be able to offer the following:

Added Expertise Expands Competency in Property & Casualty Insurance, Transportation & Logistics, and Retail Services
CSG's successful history in property & casualty insurance; transportation & logistics; and brick-and-mortar retail further diversifies Qualfon's capabilities and expands its core competencies. CSG's expertise and dedication has resulted in strong performance and deep client relationships.
Expanded List of Top Brands
CSG's client list aligns with Qualfon's growth strategy, increasing its potential across more industries and enabling Qualfon to provide additional offerings to clients.
Qualfon's Intelligent Global Footprint Expands CSG's Delivery Platform
CSG clients now have the opportunity to leverage Qualfon's global service delivery locations for strategic advantages in onshore, near-shore, and offshore markets.
"Qualfon discovered a company in CSG that has an outstanding, person-first approach with strong performance and deep relationships with its clients," said Qualfon CEO Mike Marrow. "When we heard about CSG's project to support a nonprofit entity serving people experiencing homelessness by setting up a contact center there so they could more easily access jobs, we knew this was our kind of company. CSG has a great approach, tenured leadership, and proven business results. We are two families with a shared culture that become a stronger organization together."
Both companies share a passion for caring for employees. CSG aims to empower people to put service first by creating an environment based on trust, reliability, and the pursuit of happiness, and Qualfon's company mission is: Be the best BPO, make people's lives better.
"CSG's approach around people and services are a perfect match with Qualfon. We're excited to become a part of a company that celebrates and respects employees, invests in technology and facilities, and makes client relationships a top priority. Today is a new dawn for our company that will generate more growth and career opportunities for our employees and more value for our clients and end user customers," said Tim Montgomery, Founder and Managing Partner, CSG.
ABOUT QUALFON
Qualfon is a person-driven business process outsourcing (BPO) company and a global provider of contact center services and back-office processing. With experienced BPO leadership and a strong track record of business growth dating back to our founding in 1995, Qualfon helps companies reduce costs and deliver superior customer experiences. Today, we have approximately 12,500 employees serving international brands across many industries, and our intelligent outsourcing locations span the United States, the Philippines, Guyana S.A., and Mexico. Qualfon's mission to "Be the Best BPO, Make People's Lives Better" means we invest in our people and, in return, they take better care of you and your customers. Qualfon's employee retention regularly exceeds the industry average, which creates a people-driven value chain: Our employees stay longer, providing you a higher quality service at a lower price. http://www.qualfon.com