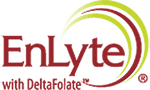 We now have a method for treating the root cause of depression, not just the symptoms. It is a true paradigm shift in the treatment of depression." Andrew Farah, MD, Study Collaborator
(PRWEB) March 30, 2016
The results of a 330 patient, well designed clinical trial on the use of a reduced Rx B vitamin preparation "EnLyte" for inherited depression are published today in the prestigious Journal of Clinical Psychiatry. Read the full study here.
Scientists have identified a major genetic link for inherited depression called MTHFR Polymorphism. This defect inhibits the ability of patients to produce neurotransmitters to regulate mood.
All patients in the study had this gene defect and accompanying Major Depressive Disorder. Half the patients were given EnLyte and the other half placebo. Neither group knew what they were taking.
The EnLyte group showed improvement within two weeks and by the end of 8 weeks 42% demonstrated a total resolution of their depressive symptoms. The placebo group did not respond well.
This study showed that inherited depression if suspected or confirmed with genetic testing can be treated successfully as monotherapy with a safe Rx Gel Cap "EnLyte".