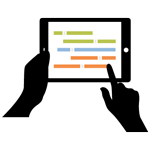 Optimized schedules help banks put the right bankers in front of the customers at the right time and place
San Diego, CA (PRWEB) April 06, 2016
Kiran Analytics – a leader in intelligent branch transformation – announced today that it launched Scheduler version 3.0, a major software upgrade of its innovative staff scheduling software specifically designed for retail banks.
Given the rapid pace of changes in consumer banking behaviors and technology deployments, retail banks are struggling with how to evolve their branch workforce. Most banks are deploying universal bankers who are capable of performing personal banker, teller, and customer service roles. Some banks are pooling their branch managers and bankers across multiple branches in close proximity. Others are recruiting staff from other retail industries. All of these workforce transformation initiatives are intended to leverage declining face-to-face interactions in branches for improved customer experience, revenue growth, and operational efficiency. Using advanced analytics, Kiran's solutions help retail banking managers optimize their workforce throughout their branch transformation journeys.
Jim DeLapa, CEO of Kiran Analytics said, "We are proud to announce the Scheduler 3.0 release with four major features -- auto-scheduler, integrated tutorial, recruiting recommendation engine, and internationalization." He added, "Making the branch manager's job easy to plan and schedule shifts was our number one design criterion for this release. Scheduler 3.0 simplifies the branch manager's job by automatically creating the highest quality shift schedule that takes into account various factors such as staff skillsets, branch attributes, staff availability, and resource pooling. Optimized schedules help banks put the right bankers in front of the customers at the right time and place aligning sales and service capacity with market opportunity."
Alignment of retail branch staffing strategy with on-the-ground operational execution is a huge challenge for retail banks. Most banks are either over-hiring, under-hiring, or not hiring the right skillsets.
DeLapa said, "We are really excited about our intelligent recruiting recommendation engine in Scheduler 3.0. It will be instrumental in helping banking managers align strategic, tactical, and operational staffing decisions."
Driven by prescriptive analytics, the engine only recommends a new hire if the auto-generated schedule does not have sufficient staff in the roster to cover the forecasted resource level. If the engine recommends hiring new staff, its recommendations are based on running through a set of scenarios and addressing questions such as what skillsets are required, should the new hire be full-time or part-time, during what specific days/hours is the new staff member needed, and which branches they need to be available (in those cases where resources are pooled among multiple branches).
Another major feature of the Scheduler 3.0 release is internationalization. DeLapa said, "Localization is an important requirement for our global customers with branch networks in multiple countries. With the new internationalization features of Scheduler 3.0, we made localization easy and fast for our global customers."
The adoption rate of software products used by banking managers is heavily dependent on ease-of-training. Kiran's Scheduler 3.0 features an integrated tutorial that simplifies workflows and provides a step-by-step navigation to guide managers through the user tasks. The integrated tutorial makes it really easy for banking managers to come up to speed thereby increasing user adoption rates.
Kiran's new release of Scheduler 3.0 powered by CloudCords® is offered as a Software-as-a-Service (SaaS) for retail banks so the benefits of this major update are immediately available to all customers and end users.
About Kiran Analytics
Kiran Analytics drives intelligent branch transformation for retail banks through the application of predictive analytics. Kiran's solutions have been deployed in over 10,000 branches helping to forecast optimal branch staff levels accurately, hire better people faster, and to plan and schedule resources efficiently. As a result, retail banks increase sales and customer service while reducing operational costs. Kiran Analytics is a member of Bank Administration Institute (BAI) and Consumer Bankers Association (CBA).