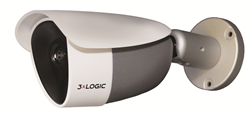 No other thermal cameras on the market today can match the combination of our thermal technology, QR code easy install and set-up, edge-based recording and powerful analytics packages. Matthew Kushner, 3xLOGIC CEO
Westminster, Colorado (PRWEB) March 29, 2016
3xLOGIC, Inc., a leading provider of integrated intelligent security solutions today announced the release of its new VISIX™ VERA VX-VT-36 Thermal Camera.
The 3xLOGIC VERA Thermal camera is an all-in-one solution with features such as embedded VIGIL Server software, edge-based recording and advanced analytics. The VERA Thermal camera was designed with the integrator in mind, offering advanced features while enabling easy deployment and set-up using innovative QR code technology—all at a highly affordable price. Edge-based recording software and an advanced analytics engine eliminates the need for an onsite server.
Key Selling Points include:

Scan and Set-up QR Code—fast, easy install and setup
Low Profile Bullet Design—rugged and lightweight
Optional Embedded VIGIL Server Software—standalone edge-based recording
Optional Advanced Analytics—object detection, detection behavior and speed filters
Priced to disrupt the typical thermal camera market
Thermal cameras are becoming a leading trend in video surveillance today for perimeter protection where previously "standard" installations have failed. Replacing these types of deployments with thermal technology and embedded analytics can result in a drastic reduction or even elimination of false alarms. This reduction in false alarms is due in large part to the fact that thermal camera analytics do not fall prey to factors such as wind, rain, moving water, animals and insects, vehicle headlights or other field-of-view contaminates. This makes thermal camera technology a very attractive, valuable alternative for applications previously unfeasible due to the prohibitive costs.
The 3xLOGIC thermal camera entry offers an all-in-one, standalone IP video system with a host of benefits including remote accessibility, high image quality, digital zooming, easy integration, scalability, flexibility and cost-effectiveness. The VERA Thermal camera enables end users and systems integrators to maximize both investment and overall system effectiveness.
"No other thermal cameras on the market today can match the combination of our thermal technology, QR code easy install and set-up, edge-based recording and powerful analytics packages," said Matthew Kushner, 3xLOGIC CEO. "No competing product, at this price, offers the detection range we have, not even close, and this camera includes our onboard analytics as standard. The competition has only 3rd party analytics as an option."
The VERA thermal camera is perfect for small, medium and large businesses that need to see where and what they cannot see with a standard IP camera.
3xLOGIC Time of Flight Camera
Along with the new thermal camera, 3xLOGIC also announces the release of its specialized Time of Flight camera. The VISIX™ Time of Flight (ToF) people tracker is a special purpose, 3D imaging device that uses highly accurate range and distance mapping for rapid, real-time processing of scene information. This smart, people tracking device is highly accurate and ideal for object tracking, counting and wait time/queue management. Compared to the current generation of stereoscopic sensors, the 3xLOGIC ToF device has higher measurement accuracy and comes standard with 3xLOGIC's advanced analytics suite embedded.
CEO Matt Kushner again, "The Time of Flight camera has unbelievable accuracy, and it is the least costly device on the market today that offers such power and processing potential. This camera is ideal for retail deployments where accuracy of information can empower marketing and operations professionals in making critical business decisions." All of 3xLOGIC's security and retail solutions will be on display at the ISC West tradeshow, 06-08 April in Las Vegas, booth #25075.
About 3xLOGIC
3xLOGIC Inc. has been a leading innovator in server and cloud-based security technology for 15+ years. The company is recognized for providing easy-to-use surveillance and business intelligence solutions that seamlessly integrate video, access control, and disparate data such as ATM, Point-of-Sale, analytics, and more.
3xLOGIC's video surveillance solutions are engineered for ease of installation, scalability and affordability combined with a managed services portfolio that enables integrators to effectively evolve from dealers to high-value strategic partners. For more information about 3xLOGIC, please visit our website http://www.3xlogic.com.
For Media Queries:
Bruce J. Doneff
Public Relations
843.476.3022
doneff(at)verizon(dot)net
For 3xLOGIC:
Wendi Burke
Senior Director of Marketing
720.945.7966
wendi.burke(at)3xlogic(dot)com
###