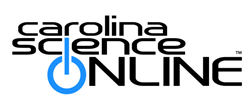 Today, learning is a constant, time and location are variables. --Bruce Wilcox, Carolina Biological
Burlington, North Carolina (PRWEB) March 30, 2016
Carolina Biological Supply, an 86-year old enduring provider of hands on science teaching products to K12 schools and colleges has partnered with Ambrose Video and BioMEDIA Associates to launch a highly engaging library of streaming STEM video content. The collection, appropriate for beginning and advanced high school science, was previously only available in DVD format. Today, however, rather than display the videos in classroom setting, teachers can assign the content to students using Carolina's Carolina Science Online learning platform. Students are now able to view the instructional content before or after class, on demand 24 x 7 throughout their course of study, at home, in the library, via smartphones, tablets, and virtually any device with an internet connection.
The award winning and compelling collection includes hundreds of hours of content which teachers can assign to students to supplement and enhance classroom instruction with real world, relevant, STEM video content. Topics covered include core Astronomy, Biology, Cell Biology, Chemistry, Human Anatomy and Physiology, Meteorology, and Physics, along with America's national monuments, the Arctic's changing climate and economics, the ascent of man, the atom and global warming. Hydraulic fracturing is also covered including measuring the earth's temperature, global warming, climate change and its impact on glaciers. Students can explore nature's micro worlds, neuroscience, the neuroscience of addiction, earth's orbit, physical geography and the rise of the continents, along with exploring the miracle of the human body.
"Appropriate use of video to support teaching has long been our goal," says Allen Dohra, Vice President of Ambrose Digital. "Our videos are used throughout the world to support effective science teaching. This partnership with Carolina Biological allows our content, via streaming technology, to be accessed by students and teachers anywhere, anytime, on any device. Teachers will now be able to use Ambrose and BioMEDIA content to flip their classrooms, create on-demand homework solutions for students, and to leverage real world STEM footage, science and scientists, to make learning meaningful and relevant to student and teacher alike."
"Carolina Biological, Ambrose, and BioMEDIA Associates, have been partners for more than 25 years," says Bruce Wilcox, Vice President. "We used to deliver the content in VHS, Laserdisc and later, DVD formats. Today, however, schools and students seek on-demand content to support learning both at home, in the school, literally anywhere. Coupling streaming content with Carolina Science Online, our learning management platform, makes it easy for science teachers to incorporate on demand STEM videos in their lesson plans and assignments for students. Our modular subscription options also make this an affordable alternative for budget conscious schools. Today, learning is a constant, and time and location are variables."
About Ambrose Digital
Ambrose Digital offers more than 1000 Educational programs in their collection including timely science and history topics. New releases include: AP Human Geography, Great Directors, Great Authors of the British Isles and Great Irish Authors. The complete Ambrose collection includes BBC Classics such as all 37 BBC Shakespeare Plays, James Burkes' Connections, Ascent of Man and more. Supporting any digital delivery format you need with professionals who can answer your every query about systems and content with a booming production schedule that excites students and teachers alike! Learn more about Ambrose Digital at http://www.ambrosedigital.com.
About BioMEDIA Associates LLC
BioMEDIA Associates LLC brings the best multimedia content together to engage students in biology and human physiology. All programs are instructionally designed using new techniques of microscopy, animation, and photography to reveal the structure, process, and behavior of living things. BioMEDIA continues to produce new programs to bring biology alive anywhere for teachers and students. Learn more about BioMEDIA Associates LLC at http://www.ebiomedia.com.
About Carolina Biological Supply Company
From its beginnings in 1927, Carolina Biological Supply Company has grown to become a leading supplier of science teaching materials. Today, from its headquarters in Burlington, North Carolina, Carolina serves customers worldwide, including teachers, professors, home-school educators, and professionals in health and science-related fields. Please visit our website, http://www.carolina.com, to learn more about our science and related products and services. For more information on Carolina Biological, visit our website at http://www.carolina.com.
Carolina Biological is exhibiting at the National Science Teachers Association conference, starting March 30th and running through April 2nd, in Nashville, TN. Teachers and students are encouraged to drop by the Carolina booth to enjoy both hands-on exhibits, and view online resources.
For media inquiries please contact Bruce Wilcox at bruce(dot)wilcox(at)carolina(dot)com