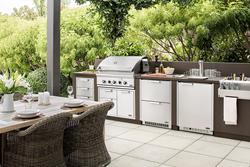 "...these three product enhancements elevate the performance options for the DCS Outdoor Grill line, which is something that we remain committed to." - Wilson Hawkins, General Manager of DCS Outdoor Products
Costa Mesa, Calif. (PRWEB) April 04, 2016
DCS appliances, the pioneer of professional outdoor kitchens, is pleased to announce three product enhancements for their line of outdoor grills, as the brand continues to provide the highest commercial grade and restaurant quality outdoor grills on the market.
Designed with flexibility in mind, DCS Grills allow the consumer to cook a wide variety of meals and are engineered to deliver the functionality and power demanded by a professional chef. DCS Grills are hand finished to perfection to complement the quality of the DCS premium outdoor kitchen and built to withstand the demands of the serious cook and the extremes of Mother Nature. With the newest product enhancements, each grill offers an even more robust performance options than ever before.
The first product enhancement is a built-in temperature gauge on the 30", 36" and 48" DCS Rotisserie Grills. With this new gauge, grillers can monitor their convection temperatures without raising the hood to maximize the complete functionality of the grill. The second enhancement is the addition of two new models, a 36" and 48" Grill, with built-in infrared burners and griddle plates. These additional size options expand the DCS Outdoor Grill line to a total of nine models. The third enhancement compliments the precision and performance of the full surface temperatures of the grilling surface. The inclusion of the new control valve allows you to cook from zero to sear, offering true temperatures from 300 to 1100 degrees and allowing you to choose the heat you need from low and slow smoking to high searing.
"Making grills that operate in additional ways and transcend traditional grilling is something that we at DCS are passionate about, and the new temperature gauge supports this idea. It encourages people to use their DCS Grills as a convection oven or to use the rotisserie," explained Wilson Hawkins, General Manager of DCS Outdoor Products. "Combined with the new grill models and the control valve, these three product enhancements elevate the performance options for the DCS Outdoor Grill line, which is something that we remain committed to."
Along with these three new enhancements, DCS Grills already have superior performance functionalities which include:
PRECISION HEAT AND CONTROL
A layer of ceramic rods are placed between burners and grill grate, which provides an intense yet even heat. This allows DCS Grills to feature full surface searing, providing an intense 1100 degrees but also provide the precision of 300 degrees for the low and slow cook.
ROTISSERIE MADE EASY
Providing controlled searing heat up to 18,000 BTU, DCS's heavy duty rotisserie motor powers a hexagonal rod and adjustable forks that can securely accommodate a 50lb load. Additionally, DCS Rotisserie Grill models are equipped with Smart Beam™ technology. With this technology a 40W halogen light is integrated into the patented weather proof rotisserie motor so that the entire cooking surface is illuminated.
DOUBLE-SIDED CAST STAINLESS STEEL GRILLING GRATES
The 36" and 48" Grills feature double sided cast stainless steel grilling grates, which allows optimal grill options whether you are cooking delicate foods or hearty meats. One side of the grilling grates features a gentle radius for tender foods, while the other is W shaped for perfect sear lines.
GREASE MANAGEMENT SYSTEM™
DCS's patented Grease Management System™ is a proprietary technology that that channels grease and oil away from the burner flames during grilling, thus reducing flare ups.
HYBRID INFRARED BURNER
Infrared burner technology is commonly used among professional chefs, as natural infrared heat can penetrate food without drying it out and thus retaining juices and flavors. The DCS Hybrid Infrared Burner allows grillers to have precise control of the temperature, which allows flexibility on the types of foods that can be cooked on the burner.
DEDICATED SEALED SMOKER
The 36" and 48" Grills have a dedicated smoker tray with a direct 3500 BTU burner offering a clean, convenient option for specialized smoking recipes.
REAL STEEL AND LIFETIME WARRANTY
DCS Grills are assembled by hand, and the grill heads and carts are made from 304 grade stainless steel. This makes DCS Grills robust, durable, and built to last a lifetime. In fact, the grill burners, hood, burner box, grates, and racks are equipped with a lifetime warranty.
For more information on DCS outdoor grills and other DCS appliances, please visit:
http://www.dcsappliances.com/
About Fisher & Paykel
Since 1934, the Fisher & Paykel design heritage has been founded on a pioneering spirit and culture of curiosity, that challenges conventional appliance design to consistently deliver products tailored for human needs. Incorporating outstanding performance, and user focused innovation; Fisher & Paykel and DCS by Fisher & Paykel appliance brands inspire people through indoor/outdoor kitchen and laundry products, designed with real life in mind. The brands incorporate innovative technologies driven from a passion to produce the most technically advanced, efficient, and contemporary styled appliances. As pioneers of the world's first drawer dishwasher, DishDrawer®; Fisher & Paykel continues to pave the way for appliance innovation. Since the 1980's, DCS has defined cooking appliance innovation for the commercial food industry, and designs commercial quality appliances for the home. Fisher & Paykel Appliances is a global company operating in 50 countries, manufacturing in the United States, Mexico, Italy, Thailand and New Zealand. For more information, please visit: http://www.fisherpaykel.com.
###