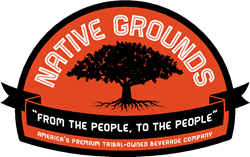 (PRWEB) April 26, 2016
Today, Earth Lodges Inc., a tribally chartered corporation of the MHA Nation, New Town, N.D., announces the launch of Native Grounds, the first tribal-owned premium beverage brand of coffee, teas, bottled water, and associated products. Native Grounds is dedicated to providing premium-quality products to Native tribes and their business communities.
"Our slogan, 'From the People, To the People,' represents the Native people's philosophy of giving back," MHA Nation Vice-Chairman Randy Phelan said. "We are proud to say that a portion of all proceeds from Native Grounds beverage products will be donated to programs that support the health, education and wellbeing of Native people throughout North America."
Native Grounds products promote awareness and understanding of Native people with each retail package including informational, inspirational or historical stories of significance to Native people around the world. More than just a single product, the brand aims to be a unifying force that represents change, a cause and solutions.
Native Grounds will extend through co-branded coffee, teas, bottled water and associated products to support all participating tribal communities. Its Beverage Program will service native communities in the following categories:

Retail sales on casino or reservation properties
Wholesale coffee distribution to casino restaurant or c-store locations
In-room coffee at casino resorts and hotels
Online retail sales and the Native Grounds Coffee Club program.
"Native Grounds products, along with our online presence, will provide a way for Native Tribes to share our rich culture and history," MHA Nation Council Member Fred Fox said. "Our website will encourage people to join the Native Grounds Coffee Club and receive information and inspirational stories with their selected coffee or other products sent directly to their home."
To learn more about Native Grounds, please visit http://www.nativegrounds.com.
About Earth Lodges, Inc
Earth Lodges Inc. is a joint venture of two economic development corporations of the Three Affiliated Tribes with each representing a distinct segment of the tribes: Mandaree - West Segment Development Corporation and White Shield - Arikara Development Corporation. The tribal development corporations are chartered under the Three Affiliated Tribes and were created to promote economic development opportunities for those individual tribal segments and their communities.
The Native Grounds Brand is owned by Earth Lodges, a Tribally Chartered Corporation of MHA Nation, New Town, N.D.
Media Contacts:
John Mahoney
Tribal Consultant
(701) 391-4311
Damon Williams
Tribal Attorney
(701) 421-0334