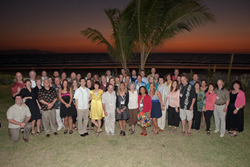 We want to make sure our Signtronix family knows how much we appreciate their hard work and success.
Torrance, CA (PRWEB) March 29, 2016
Signtronix, the country's leading manufacturer of signs for small business, announced that it will be rewarding its 2016 top sales performers with an all-expenses paid trip to Secrets Golf & Spa Resort in Puerto Los Cabos, Mexico, which will take place February 28 through March 4, 2017.
"We chose the Secrets Resort because of its amazing location in the pristine and exclusive community of Puerto Los Cabos. The resort has everything we could want to ensure our 2016 champions are treated like royalty. Elegant accommodations, gourmet dining, and luxury amenities are just a few of the many things that drew us to the resort. We want to make sure our Signtronix family knows how much we appreciate their hard work and success," said Tom Boren, CEO of Signtronix.
Roger Pelton, Division Manager of Signtronix, said, "Our champion trips always take place at such fantastic locations that our sales champions look forward to them year after year. They know we make it an amazing experience for them, so they can't imagine missing it. They really work hard during the year to make the trip. It's a win-win for everyone."
Vernie Boren, Division Manager, said, "When new salespeople start with Signtronix mid-year, they ask if it's too late to hit the goal for the trip. I always tell them, 'absolutely not!' We've had people come in as little as a few months prior to the end of the year and still meet the requirements to go on the trip. They set their mind on their goal of making the trip, and they make it happen. I encourage anyone looking for a great career in a thriving company to check out Signtronix. We are always looking for talented people to grow with us."
About Signtronix
Signtronix, a thriving business for 57 years and counting, is the leading manufacturer of outdoor and indoor signage targeting independent businesses throughout the U.S., Canada and Mexico.
Their high-quality signage is designed to enhance storefronts of small businesses and provide a welcoming invitation to draw in customers. The unique approach of Signtronix to create one-of-a-kind custom design signs at a mass produced price was the innovative idea behind the founding of the company. Join Signtronix on Facebook at http://www.facebook.com/signtronix or join us on Twitter at http://www.twitter.com/signtronix.
To learn more about Signtronix please contact Tom Johnson Jr. at trj2(at)signtronix(dot)com.