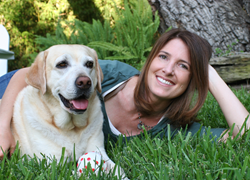 Pet First Aid Awareness Month reminds us to make time now, before something bad happens, to learn lifesaving skills that can help our pets when they need us most.
Los Angeles, Calif. (PRWEB) March 30, 2016
To mark the beginning of Pet First Aid Awareness Month on April 1, Melanie Monteiro, dog safety expert and author of "The Safe Dog Handbook," offers 10 ways pet parents can step up their safety game.
"Many people come to me after they've experienced an emergency with their pet," says Melanie Monteiro. "Pet First Aid Awareness Month reminds us to make time now, before something bad happens, to learn lifesaving skills that can help our pets when they need us most."
1. Load up your phone with lifesaving numbers and apps.
For fast access to help in an emergency, create a contact or note in your smartphone under your pet's name that contains the contact information for your pet's regular vet, nearest after-hours emergency vet, microchip company and ASPCA's 24/7 Animal Poison Control Center hotline (888-426-4435, fees apply). The excellent, free pet first aid app from Red Cross provides quick first aid guidance, and a GPS vet locator app can direct you to the nearest animal hospital when you and your pet are far from home.
2. Update your pet's ID tags and microchip information.
Have you recently moved or changed numbers? Have your pet's tags become scuffed and illegible? Has your "alternate contact" number changed? Now is the time to update any new information with your pet's microchip company, and replace tags if needed.
3. Get a pet first aid kit or update an existing one.
There are several good ready-made kits you can order online, or you can save money by creating your own kit with items from your local drugstore. If you already have a kit, remember that some essential items like hydrogen peroxide and sterile eyewash have expiration dates, as well as a limited shelf life after opening, so replace these items if needed.
4. Buckle up smarter.
If you already restrain your pet while driving, good for you! But did you know most dog seat belt harnesses and travel carriers fail in crash tests? The Sleepypod line of safety harnesses and mobile pet bed/carriers have passed stringent crash testing at the same standard set for child safety seats. Sleepypod's Clickit Sport even earned a five-star vehicle crash test rating from the Center for Pet Safety (CPS).
5. Create an "Emergency Pet Buddy" system.
Make a mutual arrangement with a trusted neighbor (or two) that your pet is comfortable with, who'd be willing to retrieve your pet and keep her safe in an emergency if you can't. Exchange house keys and alarm codes, show them where the leash, food and evacuation kit is kept, and put their contact numbers into your phone.
6. Plan ahead for a major expense.
Could you pony up thousands for veterinary treatment in the event of a sudden illness or injury? If not, there are alternatives to help your pet get the care she needs when it matters most. Options include a healthcare line of credit such as CareCredit, which lets you pay off vet bills in monthly payments, or a traditional pet insurance policy from companies like HealthyPaws, NationwidePet or Petplan. Just be sure to do careful research, comparison shop and read the fine print so you understand the terms, fees and coverage.
7. Know the location of your nearest after-hours animal hospital.
If you've never had to find an emergency vet in the middle of the night with a sick pet in the backseat, consider yourself lucky. In a stressful situation you can lose precious time without knowing exactly where to go, the fastest route to get there, and where to enter and park. By doing a dry run before an emergency happens, you'll be better able to get your pet prompt veterinary care.
8. Evaluate your pet's environment.
For most people, pet proofing is a no-brainer when bringing home a new furry family member. But living spaces and a pet's needs change over time, and pet first aid awareness month is the perfect occasion to address any safety issues that may have otherwise gone unnoticed. For example, is your backyard fence in need of repair to keep your pooch from getting out? Has your paper shredder been left on the office floor at wagging tail height? Is it time to add carpet runners or pet steps around the house to help an aging pet? A few simple tweaks, repairs or purchases can often make a huge difference to your pet's well being.
9. Take a pet first aid class.
If your pet becomes critically ill or injured, what you do (or don't do) in the time it takes you to reach the vet can make the difference between life and death. Learning pet first aid can help you be that lifeline for your pet in emergencies such as choking, car accidents or heatstroke. Ask your local humane society if it offers pet first aid training. If you don't have time or access to a class in your area, try an online course. "Dog CPR, First Aid & Safety for Pet Pros & Dedicated Owners" is a three hour video course that is modeled on "The Safe Dog Handbook." It was created to provide dog owners and pet pros with safety/life-saving skills to set them up for success in a crisis.
10. Increase safety and fun on your daily walks.
It's hard to resist the temptation to check your email or catch up on a few calls while out walking your dog, especially in the midst of a busy day. But by making a vow to keep your phone in your pocket, you'll be better able to avoid that car racing around the corner or loose dog heading your way. Best of all, you can really tune in to your dog and share the simple joy of spending quality time outdoors with your best friend.
About Melanie Monteiro
Melanie Monteiro is an award-winning writer, dog safety and lifestyle expert, and pet first aid instructor. Her book, "The Safe Dog Handbook," is endorsed by top veterinarians, VPI Pet Insurance, and celebrity animal advocates such as Ellen DeGeneres. Known for her precise and friendly style, Melanie's web-based and hands-on training workshops are widely praised for teaching pet parents lifesaving skills, as well as how to prevent and prepare for common mishaps. She's been featured in national media outlets such as NPR, Fox News, Animal Radio and The Bark. Melanie consults with a wide clientele including pet professionals, humane organizations and celebrities, and works with leading brands to create and host videos and events. For more information visit http://www.thesafedog.com.
Contact:
Jane Skuta
Happy Black Dog Media
+1 (703) 364-9753
jane(at)hbdmedia(dot)com