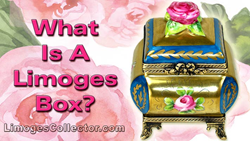 The Gift-Giving dilemma for the hard-to-buy person is solved with a magnificent hand-painted French Limoges box.
Los Angeles, California (PRWEB) March 30, 2016
Collecting is among the most enjoyable hobbies today. Collecting objects of beauty enhances daily lives and adds color and interest to homes and places of business.
LimogesCollector.com is proud to announce the launch of its Blog discussing a variety of topics on collecting and gift-giving in relation to French Limoges boxes. The blog also offers tips and travel information to Europe and beyond.
With each blog post, readers are inspired to enhance their collector's love of the decorate arts and boost their Limoges purchasing savvy.
Limoges boxes have enjoyed great popularity as collectibles as well as luxury gifts over the past centuries. For the past few decades, the popularity of these magnificent art pieces has greatly increased especially in the United States. For the great many who enjoy collecting Limoges boxes, these exceptional objects of beauty not only bring enjoyment, but also provide a great satisfaction that the value of these little treasures increase in time. Those who give a Limoges box as a gift, can be sure that the recipient will be impressed with the valuable and exceptional hand-painted object.
As direct importers of Limoges boxes for two decades and working closely with the French artisans and workshops that produce these highly-coveted collectibles, the founders of LimogesCollector.com are considered an authority in the field of French porcelain collecting and have a wealth of information and tips to share with an ever-growing clientele as well as all others interested in French porcelain Limoges. A customer who is educated and knowledgeable about Limoges boxes is much more at ease to make a purchase with confidence.
LimogesCollector.com's co-founder, Vida Cunningham, states: "Many people are familiar with the artistry of Limoges and collectible Limoges boxes and are greatly interested in knowing more about them before they invest in a piece for themselves. The blog provides such individuals with all the essentials as well as a variety of recommendations in their area of collecting interests." She continues "If you want to know the basics such as what is a Limoges box, how and where Limoges boxes are made and how you can best use or display Limoges boxes, you will find these answers and much, much more in our blog posts."
Many collectors and gift-buyers want to look for inspiration to enhance their collection or to find the perfect gift for that special person or an upcoming occasion. The blog is not only a great source for inspiration but, also as a part of the retail website with over 2,200 various French Limoges styles, it directly leads readers to the actual products they are interested in purchasing.
About LimogesCollector.com:
For the past two decades, LimogesCollector.com's family of websites have provided collectors around the world with the finest French Limoges boxes in an array of styles and themes. Their extensive selection feature exquisite hand-painted porcelain Limoges boxes by top-of-the-line Limoges brands such as Beauchamp, Artoria, Rochard, and many more. From pouring the porcelain paste into the mold to the hand-painting and metalwork, every Limoges box they offer is crafted by master artisans in Limoges, France.
The company prides itself not only in offering the top brands of luxurious Limoges boxes but also providing superior customer care and speedy shipping. A service especially popular with gift buyers is their artist hand-inscribed personalization. Many shoppers want to make their gift purchase even more personal and memorable by adding a message of their choice to their Limoges purchase, beautifully hand-inscribed by an artist. This service is performed in-house on a same-day basis.