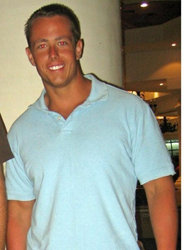 (PRWEB) March 29, 2016
David Bostik is the owner and operator of the Chicago North Center and Andersonville locations of Fit Body Boot Camp. From March 28th to April 8th Bostik and his team will be running a challenge to collect cans and non-perishable food items through a competition amongst clients that could earn them prizes. All cans and food items are to be donated at the Andersonville location at 5430 N. Clark Street, Chicago, IL 60640 in benefit of the Greater Chicago Food Depository.
Fit Body Boot Camp is the world's fastest growing and most popular indoor fitness boot camp brand, with hundreds of locations worldwide. The boot camp's unique brand of fitness combines individualized personal training from licensed professionals, clinically proven Afterburn workouts, and nutritional guidance to guarantee weight loss results.
This isn't the first time Bostik and his team have run this program.
"Every year we do a drive to support the Greater Chicago Food Depository and we are so excited to do so again this year and hopefully top our previous collections. 1 in 4 children in Chicago do not know where their next meal is coming from and that is just one of the reasons why we are so passionate about helping this great cause."
The challenge will run for a little under 2 weeks. Clients will be able to bring a friend in to boot camp sessions at no cost as long as the friend brings 3 cans of food with them as well. Clients that bring in the most friends will be able to win prizes, from memberships to spa packages. True North, a local health café/supplement store is going to provide a gift basket to the prize pool as well.
David encourages his clients to participate and spread the word about the program as much as possible so they can hit their donation goal this year. They aim to have 700lbs of food and over $500 to donate to the Greater Chicago Food Depository by the end of the promotion.
The Greater Chicago Food Depository is a nonprofit food distribution and training center that provides food for hungry people while striving to end hunger in their community. They include a network of pantries, soup kitchens, shelters, children's programs, and more.
About Andersonville Fit Body Boot Camp:
Andersonville Fit Body Boot Camp is a part of the Fit Body Boot Camp family of indoor fitness boot camps, whose global goal is to engage 20% of the world's population in a healthy and fit lifestyle by the year 2020. Andersonville Fit Body Boot Camp is owned and operated by David Bostik. Bostik is committed to helping members of the Andersonville community set and accomplish their own health and fitness goals.
For more information about Andersonville Fit Body Boot Camp, please call: (312) 788-4211
Visit their website at: http://www.fitbodybootcamp.com/andersonvillefitnessbootcamp/
Or their Facebook page at: https://www.facebook.com/andersonvillefitbody/