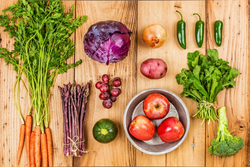 We are passionate about providing folks easy access to super fresh organic fruits & veggies at reasonable prices from fabulous farmers!
(PRWEB) March 30, 2016
To give families a healthier, fresher and cost-effective alternative to store-bought produce, Farm Girl Organics announced today in Peoria, IL., it was launching a new home delivery service that brings fruits and vegetables directly to doorsteps.
Farm Girl Organics is a delivery service of farm fresh organic produce. They deliver a variety of organic fruit and vegetable boxes straight to doorsteps or offices. The contents change weekly based on the freshest arrivals from the organic farms they work with. Produce generally moves from farm to table in 24 to 48 hours.
Farm Girl Organics customers can choose different sizes of boxes that contain varying amounts and types of in-season produce. Boxes range from $40.00 to $55.00. The online store allows customers to customize their boxes from a weekly selection of in-season produce, forgoing the spinach they dislike for more carrots or opting to add additional items to their box such as extra apples. Customers order directly from Farm Girl Organics' website at http://www.FarmGirlOrganics.com.
"Helping families have easy access to good food grown by good people is a motivation for me," said Lucinda Clark, Founder of Farm Girl Organics. "I don't believe we can change the world overnight, but we sure can try."
In an effort to help the less fortunate, staff members gather extra produce not used in weekly drop-off at the local homeless shelter and food distribution center. Farm also collect an item of the week such as toothbrushes or toothpaste from their customers, picking the items up when the customers' produce is delivered and then distribute those items to local shelters.
Clark also said that one of her main goals is to help local small farmers. "It is our mission to create a more socially-just food system by buying from smaller family farms, establishing a cleaner environment by sourcing organically grown/produced food, and develop a sustainable food system by bridging the gap between farmers and consumers which lessons the miles from farm to fork."
Growing up on a struggling family farm Lucinda Clark knows firsthand the hardships that facing those trying to make a living off of the land. Vowing to help the local farmer, Lucinda launched Farm Girl Organics which serves as a middleman between the fruits of the fields and customers looking for organically grown produce delivered straight to their door.
"One of things that people love so much about Farm Girl Organics is the quality," said Clark. "How often do you go to the grocery store and feel like it is impossible to find good, quality organic produce? Our produce is fresh, it's organic and that makes a huge difference in quality. People like that it is convenient. Time is a currency that most of us do not have extra of, so having your produce delivered and saving a trip to the grocery store makes people excited about Farm Girl Organics. Our produce boxes are also affordable and very price competitive, which in today's economic times is also very important to consumers."
Farm Girl Organics
Farm Girl Organics is a delivery service of farm fresh organic produce and select groceries throughout most Peoria metro communities. They deliver a fresh variety of fruit and veggie boxes straight to doorsteps and offices. The contents of the boxes change weekly based on the freshest arrivals from the organic farms they work with and are fully customizable. Farm Girl Organics is more than a produce delivery business. It is a community of people trying to eat well, be well and do a lot of good in between. Join them at http://www.FarmGirlOrganics.com.
###