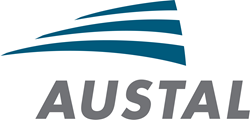 MOBILE, Ala. (PRWEB) March 29, 2016
Austal celebrated the keel-laying milestone for the Expeditionary Fast Transport vessel Yuma (EPF 8) here today with a ceremony marking a significant milestone in the ship's construction. This ship is the eighth EPF built at Austal under the 10-ship, $1.6 billion block-buy contract awarded to Austal in 2008.
Laying the keel is the formal recognition of the start of a ship's construction. The keel runs lengthwise down the middle of the ship serving as the basic foundation or spine of the structure, providing the major source of the hull's strength.
The Honorable Douglas Nicholls, Mayor of the City of Yuma, Ariz., authenticated the keel at the ceremony by welding his initials onto an aluminum keel plate that will eventually be placed in ship's hull. Mayor Nicholls was assisted by Austal USA A-Class welder, Courtney Cagle. Ms. Cagle began her employment with Austal in 2012 as an apprentice.
"I am excited to reach this significant milestone today in such a short period of time, considering we just launched EPF 7 from this bay in late January." Austal USA President Craig Perciavalle said. "The momentum we're experiencing on the construction of this amazing ship is evidence of the strength of Austal's EPF program, and the continued success displayed by Austal's talented shipbuilding team."
The EPF program at Austal is progressing rapidly. USNS Brunswick (T-EPF 6) was delivered in mid-January and there are three other EPFs under construction at Austal USA's headquarters and ship manufacturing facility in Mobile, Ala. Of the ships already delivered to the Navy, USNS Spearhead (T-EPF 1) is in Africa on its third deployment and recently took part in a successful anti-piracy operation. USNS Choctaw County (T-EPF 2) and USNS Millinocket (T-EPF 3) are also currently deployed supporting U.S. Navy fleet operations, including many international exercises.
Austal is also under a 10-ship block-buy contract worth over $3.5 billion for the U.S. Navy's Independence-variant Littoral Combat Ship (LCS) program. The company has delivered three LCS with another seven currently under construction. The future USS Montgomery (LCS 8) is scheduled for delivery later this year.
About Austal
Austal is a global defense prime contractor and a designer and manufacturer of defense and commercial ships. For more than 25 years Austal has been a leader in the design, construction and maintenance of revolutionary ships for governments, navies and ferry operators around the world. More than 250 vessels have been delivered in that time.
Ships
Defense vessels designed and built by Austal include multi-mission combatants, such as the Littoral Combat Ship (LCS) for the U.S. Navy and military high speed vessels for transport and humanitarian relief, such as the Expeditionary Fast Transport (EPF) for the U.S. Navy and High Speed Support Vessel (HSSV) for the Royal Navy of Oman. Austal also designs, constructs, integrates and maintains an extensive range of patrol and auxiliary vessels for government agencies globally, including the Cape Class Patrol Boat Program for Australian Customs and Border Protection. Defense vessels are designed and constructed in Mobile, Ala. and in Henderson, Western Australia.
Austal has been at the forefront of the high speed ferry market since the early days of the industry. Our market leading designs of high performance aluminum vessels have long been at the heart of Austal's research and development. Today, commercial ship construction is centered on our shipyard in Balamban, Philippines.
Systems
Austal has expertise in integrating complex systems into its ships, including ride control, ship management, and communication, sensors and weapon systems.
Support
Austal provides a wide range of support services, including through life support, integrated logistics support, vessel sustainment and systems support. These services are delivered through our global support network in the USA, Australia, Asia, and the Middle East together with partner shipyards worldwide.