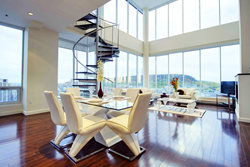 Modern furnishings, spacious layouts, and natural lighting set the CorporateStays apartments above the rest
Montreal, Quebec (PRWEB) March 31, 2016
With roots as a highly trusted corporate housing company in Montreal, Canada, CorporateStays.com has grown to cover both Canadian and international markets, providing corporate travellers with a new and exciting way to live in a city.
CorporateStays.com prides itself in having advantages for guests, partners, and associations. For corporate clients and guests, the company can provide competitive rates, luxury and affordable accommodations, new and trendy apartments designs, easy check-in/out, access to fitness and pool facilities, 24 hour emergency contact, concierge services, and club membership privileges which include benefits such as early check-in/late check-out, gift cards, and more.
Consider CorporateStays the one stop shop for Canada with over 3,000 apartments in 20 major cities across the country - and they're only growing. The company aims to build Canada's largest network of corporate housing solutions with the best in class local providers in every market. This allows guest experiences to be more hands-on and local with incredible individual and personalized services, offering business travellers the best available rates with consistent high quality products in their chosen destinations.
Beautiful Apartments
Hand-picked and personally managed by a highly experienced and trained team, any traveller is guaranteed to find their perfect furnished apartment with us. Modern furnishings, spacious layouts, and natural lighting set the CorporateStays apartments above the rest. Every guest is guaranteed to have spacious living areas, fully equipped kitchens, washers and dryers, and impeccably designed spaces. Ranging from studios to multiple bedroom options gives travellers the freedom to choose what works best according to their needs.
Incredible Amenities
Whether someone is travelling for leisure or business, the CorporateStays serviced and furnished apartments bring convenience to any trip. In addition to free high speed WiFi, heating, and in-room technology, expect a fully-equipped kitchen, top brand appliances, and all necessary kitchenware and utensils in all apartments, which is ideal for anything from grabbing a quick breakfast in the morning to preparing a complete meal after a long day. Additionally the in-buildings amenities are guaranteed to have something for everyone, with many being equipped with indoor and outdoor services such as a front desk concierge, parking, pools, hot tubs, saunas, games rooms, fitness centers, and more.
Central Location
No matter what city guests find themselves in, they can expect to find themselves in the middle of all the action. Only the highest quality buildings in the most desirable neighbourhoods in every city are selected. This ensures that every apartment is strategically located for the ultimate convenience and accessibility. Extending from the West to East coast of Canada, clients can stay anywhere from options like Vancouver or Halifax and be guaranteed the same great service.
For any short term or long term rental needs, CorporateStays.com aims to build Canada's largest network of corporate housing solutions. Corporate and leisure travellers are no longer bound to staying in hotels during their travels - corporate housing is a fast growing trend in the hospitality industry and for good reason.