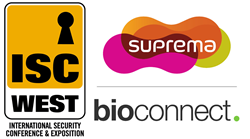 Toronto, ON (PRWEB) March 30, 2016
BioConnect will be attending ISC West, the largest security trade show in the United States next week from April 6th-8th in Las Vegas at the Sands Expo Center. BioConnect will be exhibiting jointly with Suprema, a global leader in biometrics and security in booth #22075 and will be showcasing some impressive new products and solutions.
BioConnect will be presenting its identity platform featuring 5 integrations with leading access control management systems in the industry: Paxton Net2, AMAG Symmetry, Software House CCURE 9000, Genetec Security Center and Lenel OnGuard. The platform connects Suprema biometric devices as well as Digitus cabinet readers to these access control systems providing seamless integration of biometric and standard user data. For a list of all access control integrations visit http://www.bioconnect.com. The demonstrations will feature the latest BioConnect platform release, v3.6. The release focuses on the overall simplicity of the software, primarily focused on making the installation and maintenance of the platform as frictionless as possible for the integrator and end user.
Suprema, a global leader in biometrics and security technology, will exhibit jointly with BioConnect and together they will showcase their latest BioStation A2 and BioStation L2 terminals. BioConnect supports the implementation of Suprema's class leading biometric devices (finger, face, card and PIN) and IP access control solutions. The BioStation A2 is the most advanced fingerprint access control and time attendance terminal featuring Suprema's next generation biometric and security technology. The intuitive Android-based GUI makes it ideal for a wide range of applications. It has been recognized as the best biometric solution at the recent ISC Brazil event in Sao Paulo and it is currently in the running for best new product at SIA New Product Showcase at ISC Brazil. As such, the biometric terminal has also been submitted into the SIA New Product Showcase seeking the achievement of best new product at ISC West. ISC West will mark the world premiere of BioStation L2. It is a compact fingerprint terminal with full time and attendance and access control features. The new BioStation L2 is an incredibly fast, secure, versatile and cost effective solution. BioConnect is very excited to bring these devices to the market.
After the announcement of their newest integration with Digitus server cabinet biometric locks, BioConnect will be demonstrating a solution fit for 'Best in Class' data centers, where identity is a central component of protecting their most critical infrastructure. The solution leverages BioConnect's platform to combine Suprema biometric readers and Digitus server cabinet locks with an access control system infrastructure. The providers must ensure accountability and auditability for their enterprise or clients from the front door right down to the sever cabinet. Also included on the product wall from Digitus is the first ever dual-factor lock at the cabinet level, the Dual Lock, boasting biometric and card options. Integrated to BioConnect this product will provide data center operators the ability to ensure they meet growing compliance requirements for dual-factor authentication for sensitive data.
BioConnect is also excited to demonstrate their very first identity application, BioConnect TeamWorks, at ISC West. BioConnect TeamWorks is a cloud-based HR suite that works jointly with Suprema biometric terminals. The application solves enterprise pain points in workforce management and allows for easy management of absences, requested time off and sick days, and integrates the information with user's existing payroll systems.
Visit Suprema and BioConnect at ISC West 2015 from April 6-8 in Las Vegas at booth #22075 for product demonstrations and information on the newest technologies. Book a meeting at http://info.bioconnect.com/isc-west-2016-book-meeting