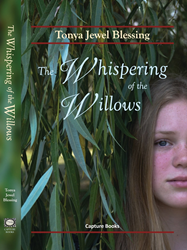 "Tonya Blessing's sweet, unassuming voice deals artfully with sexism and religious bigotry. Superb storytelling of practical faith portrays the difficulty and beauty of Appalachian life." – Marilyn Bay Wentz, author of Prairie Grace
Denver Colorado; Richmond Virginia, Washington D.C. (PRWEB) April 12, 2016
Books and relationships are both portable, which is why Capture Books is encouraging both adults and teens to take their books into the sun with them as they vacation this summer. They are unrolling the scroll of summer with a family book club strategy for breaking the Ice on hard parent-child discussions.
First, approaching Mother's Day, a Capture Books has released its mother-daughter saga, The Whispering of the Willows through Spring Arbor and Baker & Taylor. Adding discussion questions to the book was a strategy to make an easier conversation between mothers and daughters. Discussing unfortunate choices that poverty, bad boys and a vulnerable position often present to young girls can be difficult, but in the Whispering of the Willows, eighth grade Emerald Ashby discovers her strength when her poverty-stricken parents trade her to a disturbed and abusive man. The coming-of-age saga is written in such a way that parents, who want to prepare a teen against victimization, find the book as compelling as a teen simply seeking a good summer read. Capture Books features companion copies of The Whispering of the Willows through its website.
"It's a heady summer goal. There's a lot of heart in committing to read each other's books," says a representative of the book club program. "The Whispering Willows tells of faith-the-Appalachian-way, draped in the camouflage of a small West Virginia community where a blossoming young woman has been traded into marriage by her parents who are desperate for another farm laborer. When key individuals begin carving out a rescue plan, Emerald Ashby grows strong despite grievous wrongs committed against her. The Whispering of the Willows perfectly pairs mothering hearts and brave young girls who enjoy solving perplexing problems together. Inside the Whispering of the Willows, life in the 1920's world of Big Creek, West Virginia, is discovered through the eyes of fourteen-year-old Emerald Ashby."
Everything seems twisted when a preacher in the holler connives to trade a farmer's young daughters in marriage for financial gain. Not all is lost, however, when a brother, an aunt, a doctor and the sheriff decide to play a little game of poker on sacred ground. There, a handful of true believers work to correct the scandals brought to light in the ailing town.
Cleverly suspenseful and sweetly spoken, the storyteller's unassuming voice transforms an Appalachian trail of tears into holy terror against an evil that stalks the innocent. Emerald Ashby grows strong despite grievous wrongs committed against her. In The Whispering of the Willows, an Appalachian marriage practice might be compared to the modern sex trade which continues to exploit young females. Yet the power of some stalwart souls is guaranteed to save the day, at least for one young woman. Not since Catherine Marshall's Christy series has an Appalachian drama come to life like The Whispering of the Willows.
When Father's Day rolls around, a similar promotion will be launched with Capture Books' release of Mister B: Living with a Rocket Scientist. Mister B presents a comical yet instructive diary appealing to fathers and teens. The summer read for fathers traveling with their teens portrays some landmark lessons. Mister B is the summer read for fathers traveling with their teens. What matters to an intelligent centurion is revealed when in-laws make a difficult decision to help and protect the ol' guy. Spending valuable time on an aging parent, the in-laws find a way to unlock long-held secrets by the quirky aerospace scientist. Results are guaranteed to satisfy.
Both books, Mister B, the 98-Year-Old Rocket Scientist for fathers and teens, and The Whispering of the Willows for mothers and teens model characters-in-action helping someone else. "The books mirror exactly what our summer book club project is trying to accomplish. That people need to be intentional and inclusive in building each other up, and not simply using other people for one's own ends."
Mister B, a biography with 20 historic aerospace photographs and book club questions, as well as The Whispering of the Willows, also released with a list of book club questions, are available for a limited time at the companion price through http://www.CaptureMeBooks.com. When the programs end, the books will also be available through libraries, Baker & Taylor and Amazon. The Whispering of the Willows and Mister B.