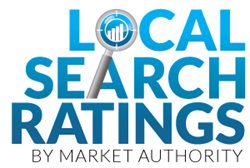 Local Search Ratings allow advertisers to optimize cross-media local search campaigns
(PRWEB) March 30, 2016
The world leader in consumer local media usage research and local search sales empowerment programs, today announced the introduction of a local search measurement tool, Local Search Ratings (LSR). Market Authority's Local Search Ratings service is based on more than 640,000 live consumer interviews in eleven countries. With more than 100,000 consumer interviews in 2015 within the United States alone, LSR provides the most comprehensive view of the specific media consumers most often use to search for a local business. Market Authority is currently providing Local Search Ratings (which it updates quarterly) in over 300 US markets with more markets being added on a monthly basis. Local Search Ratings reports can be obtained by contacting Market Authority.
"Our goal is to provide immediately actionable local insights and powerful local sales tools to marketers who rely on local search media to drive revenue for their clients" said Steve Sitton CEO of Market Authority, "LSR is designed to allow advertisers to identify the correct cross-media optimization in order to drive the highest return on investment." The new LSR tool provides advertisers, agencies, and media companies with Nielsen-like unbiased, third-party, quantifiable data for market-specific local search patterns. With nearly 10,000 live interviews conducted each month, no other resource comes close to the level of insight obtained from the LSR data.
Due to the predominant consumer usage of organic search in virtually every market in the US, and because of the organic strength of Internet Directories (Superpages, YP, Yelp, AngiesList, Thumbtack, etc.), Market Authority has also developed the Organic Search Rankings (OSR) database and sales tools. OSR provides rankings on the top performing organic search properties which are dominated by Internet Directories. "The sheer volume of leads being driven to SMB's by the strong Internet Directories can be surprising", Said Sitton. "We have created a new and more compelling way for Internet Directory companies to demonstrate that impressive strength to SMB's". The research and sales tools are available by category or category group for any geographic market or group of markets. This data assists advertisers and agencies in determining which Internet Directories they should leverage in order to capture the growing volume of organic traffic being driven to those sites in their target markets.
While the strength of search engines is well known, there are some unexpected insights found in the LSR. These findings include the staying power of print yellow pages across the United States for key categories and consumer segments. Market Authority's Local Search Ratings allows advertisers, agencies, and media companies to effectively cross-media optimize based on actual current consumer usage, market by market.
Market Authority also conducts ongoing custom Local Search Research as well as custom organic ranking for its clients throughout the U.S. and globally. Custom studies are used to supplement the data and gain deeper insights to address a given client's unique challenges. Market Authority's powerful local media research and sales training has brought its clients over $300,000,000 in additional advertising sales worldwide. Contact Market Authority to learn more about Local Search consumer usage in your markets.
About Market Authority
With more than 640,000 live consumer interviews, 19,000 local search sales professionals trained, and thousands of hours of personal sales coaching and ride-along sessions, Market Authority is the creator and sole provider of Research Driven Sales Empowerment for the Local Search industry. The power of MA's dynamic local sales messaging and training programs is evidenced by thousands of success story reports from local media sales professionals.
For more information contact
Market Authority at 916-673-9661
or email info(at)marketauthority(dot)org
http://www.marketauthority.org
###