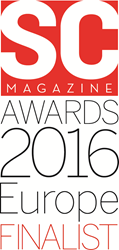 Penta Security's website protection solution represents some of the most innovative and effective security technologies on the market today.
Seoul, South Korea (PRWEB) March 31, 2016
Penta Security Systems Inc., a global information security company headquartered in Seoul, South Korea, has been named as a finalist for the SC Awards 2016 Europe for outstanding industry leadership in information security. Cloudbric is one of five total finalists being recognized in the Best SME Security Solution category, which acknowledges superior services that help customers address the most pressing cyber-security threats. The winners will be announced at the SC Magazine Awards Europe ceremony to be held in London on Tuesday 7th June at a stunning new central London venue on the Riverside of the Thames, Old Billingsgate.
The SC Magazine Awards Europe is the information security industry's most prominent recognition. Winners in the Threat Solution categories are decided by an expert panel of judges, hand-picked by SC Magazine UK's editorial team for their breadth of knowledge and experience in the information security industry. The awards honor both the cyber-security professionals working in the trenches, and the products and services that help protect today's corporate world from a myriad of ever-changing threats.
"Penta Security's website protection solution represents some of the most innovative and effective security technologies on the market today," said Tony Morbin, Editor in chief SC Magazine UK. "As attackers develop and deploy new approaches to compromising sensitive information, companies are challenged to keep pace. Cloudbric was named a SC Award finalist for its efforts to raise the bar for the security industry."
Cloudbric is an elite full service website security solution specifically designed for small to mid-sized businesses. Being in the information security industry for over 19 years, Penta Security Systems has acknowledged that most SMEs do not have the proper resources and security solutions to counteract malicious web attacks targeting sensitive customer data. Penta Security launched Cloudbric in early 2015 to better serve the SMB market and offer a free to use enterprise level security package regardless of business size.
TJ Jung, VP of Product & Technology for Cloudbric, said, "Unlike mainstream security vendors that prefer to charge website owners per premium security feature, Cloudbric provides a full suite of website security features, such as web application firewall, CDN, SSL, and DDoS protection, as a set standard."
About Penta Security Systems
Penta Security is a global information security firm headquartered in Seoul, South Korea, and specializes in web application security, database encryption, as well as access management. With over 19 years of IT security expertise, Penta Security protects more than 117,000 websites and blocks more than 108,000,000 web attacks per month. Recognized by Frost & Sullivan, Penta Security Systems is the number one Web Application Firewall vendor in the APAC Region based on market share. For more information about Penta Security and Cloudbric, please visit https://www.pentasecurity.com/en and https://www.cloudbric.com or contact Cloudbric at support(at)cloudbric(dot)com.
About SC Magazine UK
SC Magazine UK provides IT security professionals with in-depth and unbiased information through timely news, comprehensive analysis, cutting-edge features, contributions from thought leaders and the best, most extensive collection of product reviews in the business. By offering a consolidated view of IT security through independent product tests and well-researched editorial content that provides the contextual backdrop for how these IT security tools will address larger demands put on businesses today, SC Magazine UK enables IT security pros to make the right security decisions for their companies. Besides the quarterly print magazine, special Spotlight editions and daily website, the brand's portfolio includes the SC Congress and Expo series (London, Amsterdam, New York, Chicago, Toronto), SC Awards, Roundtables, Webinars and SC Magazine Newswire.