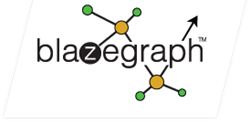 WASHINGTON, D.C. (PRWEB) March 30, 2016
Blazegraph, creator of the industry's first GPU-accelerated high-performance database for large graphs, announced today that company graph database experts will deliver three presentations on using GPUs for graph applications at the GPU Technology Conference (GTC) being held April 4 through April 7, 2016, at the San Jose Marriott and Convention Center in Silicon Valley.
GTC is the largest and most important event of the year for GPU developers. This year's event will showcase some of the most vital work being done in the computing industry today, including on artificial intelligence and deep learning, virtual reality and self-driving cars.
Blazegraph's sessions at the conference include:
"GPU-Accelerated Graph Query for Cyber Applications," Jim Carbonaro, Senior Software Engineer at Blazegraph (S6337),Tuesday, April 5, 2016 at 2 p.m. PDT in Marriott Salon 2. Carbonaro will discuss how Blazegraph GPU meets the unique challenges of defending networks in cyberspace by delivering near-real-time performance at very large data scales, using a flexible and updated graph representation to support complex analytics, and supporting existing graph frameworks (RDF, Apache Tinkerpop™) and query languages (SPARQL).
"Data Analytics and Machine Learning at Your Finger Tips – No CUDA Required," Blazegraph's Chief Scientist and Cofounder Bryan Thompson and CUDA Researcher James Lewis (S6267), Wednesday, April 6, 2016 at 2 p.m. PDT in Room 210F. Writing fast, efficient data analytics for graph and machine learning on GPUs can be hard due to the complexities of CUDA and achieving effective parallelism. This presentation discusses the concepts for graph algorithms and queries, the Mapgraph architecture, and how algorithms are evaluated on a GPUs.
"Graph Database and Analytics in a GPU-Accelerated Cloud Offering," Blazegraph's CEO Brad Bebee and Cirrascale Corporation's Chief Executive and Technical Officer Dave Driggers (S6395),Wednesday, April 6, 2016 at 4 p.m. PDT in Room 210F. In this session, Bebee and Driggers will detail the Blazegraph GPU cloud offering on Cirrascale and demonstrate how to quickly deploy it in the cloud. In addition, graph benchmarks on cloud systems will be presented during the session
Blazegraph Database is an open source high-performance graph database that features robust, scalable and enterprise-class storage with online backup, high-availability and scale-out. It is capable of supporting up to 50 billion edges on a single machine and can achieve graph application acceleration of between 10x-1,000x, with a graph traversal rate of 32 billion traversed edges per second (GTEPs). By leveraging the power of GPUs, Blazegraph Database enables extreme scaling that is thousands of times faster and 40 times more affordable than CPU-based solutions.
Register with code FF16X20 to save up to $300 for the GPU Technology Conference http://nvda.ly/CHpkk. Blazegraph will also be exhibiting at booth 206 during the four-day conference.
About Blazegraph
Formerly known as SYSTAP, LLC, Blazegraph is a provider of highly scalable software for solving complex graph and machine learning algorithms. Founded in 2006, the company is the creator of Blazegraph DB, an ultra-high performance graph database supporting up to 50 billion edges on a single machine. Blazegraph GPU and Blazegraph DASL are its disruptive new technologies using GPUs to enable extreme scaling that is thousands of times faster and 40 times more affordable than CPU-based solutions. Fortune 500 companies and government agencies – including DARPA, EMC, Wikimedia Foundation and Yahoo7 – rely on Blazegraph for graphs at scale because, in graphs, size matters. For more information, visit http://www.blazegraph.com.