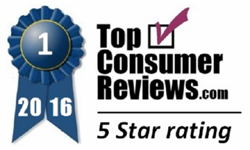 Logo Design Team is the hands-down winner in the industry, and they earn our top rating.
Overland Park, KS (PRWEB) March 30, 2016
Logo Design Team, a recognized leader in Logo Design companies, has been awarded the top rating from TopConsumerReviews.com.
Marketing one's business—from stationery and other printed materials, to websites and television commercials—is possibly the most critical component of achieving success. First and foremost in establishing a brand identity that will draw attention and convey the company's image is the choice of a logo. From the color scheme to the font and size of text included in the image, many decisions go into the design of a business logo. The best design agencies deliver their products after working hand-in-hand with the customer to create a distinctive, impressive end result.
"Logo Design Team has more than 90 graphic artists that have contributed to the company's success", explained Brian Dolezal, of TopConsumerReviews.com. "This top-notch agency turns around designs within two to three days of the initial input from the customer, providing concept logos that can be modified as needed according to their preferences. Amazingly, with two of the three pricing packages offered, the customer is allowed to make unlimited changes, demonstrating Logo Design Team's absolute commitment to customer satisfaction. And, the depth and uniqueness of the logos created by the company's designers is bound to impress business owners across the spectrum. Logo Design Team is the hands-down winner in the industry, and they earn our top rating."
To find out more about Logo Design Team and other Logo Design companies, including reviews and comparison rankings, please visit the Logo Design category of TopConsumerReviews.com at http://www.topconsumerreviews.com/logo-design/.
About Logo Design Team
Originally established as a logo and stationery design firm in 1997, Logo Design Team's success in the industry led to their expansion into websites, caricatures, social media graphics, and more. Each design created by a team of their talented, dedicated professionals is tailored to the customer's needs and seeks to transform dreams and ideas into reality. Their award-winning designs have been featured by CNBC and Red Herring, regularly placing Logo Design Team among the top five companies in the industry worldwide.
About TopConsumerReviews.com
TopConsumerReviews.com is a leading provider of independent reviews and rankings of hundreds of consumer products and services. From Logo Design to Company Incorporation and Business Phone Systems, TopConsumerReviews.com delivers in-depth product evaluations in order to make purchasing decisions easier.