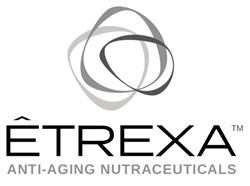 These premium anti-aging supplements offer you great value and health benefits while representing a new standard in health science and technology.
Montreal, Quebec (PRWEB) April 04, 2016
Canadian health product company, Biosentica Laboratories Inc., has developed a line of anti-aging nutraceuticals using Hyaluronic Acid and Carnosine that are synergistically blended with other bioactive ingredients for enhanced performance. ÊTREXA™ is a line of nutraceuticals that offers significant advantages over similar products, and features four different formulas to promote skin, joints, immune system, and cardiovascular health.
Being the major ingredients of ÊTREXA™, Hyaluronan and Carnosine occur naturally throughout the body, and are key factors in promoting the health and recovery of several bodily systems. The ÊTREXA™ line offers superior bioavailability compared to other supplements, helping the body better absorb and assimilate the ingredients. Each member of the ÊTREXA™ family is also synergistically formulated to deliver the bioactive ingredients to where they're needed most in the body, giving consumers more confidence in the health benefits of the formulas as a whole.
The ÊTREXA™ line features four different formulas for promoting skin, joints, immune system, and cardiovascular health. ÊTREXA™ IMMUNUM is a powerful synergetic composition that helps to enhance the immune system's responsiveness to various threats.
ÊTREXA™ DERMA supports optimal skin health, replenishing dermal structure and promoting skin hydration and rejuvenation. ÊTREXA™ DERMA is also ideal to support skin condition following filler injections and other aesthetic treatments.
ÊTREXA™ FLEX is based upon innovative approach in addressing the problem of joint care, helping to balance inflammatory joint reactions responsible for the premature deterioration of joint tissue. And ÊTREXA™ CARDIO offers unique cardioprotective benefits by scavenging free radicals and damaged proteins.
All members of the ÊTREXA™ family are available for purchase at Etrexa.com, where consumers can also find complete details on each ÊTREXA™ product and its ingredients.
About Biosentica Laboratories Inc.
Based in Montreal, Quebec, Canada, Biosentica Laboratories Inc. specializes in the development and manufacturing of innovative wellness products, with a strong focus on anti-aging. Founded by the pharmaceutical researchers from several health science fields, Biosentica is committed to developing the most advanced health supplements available.