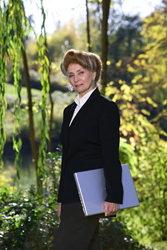 Grants Pass, OR (PRWEB) March 30, 2016
We all leave a carbon footprint that could be damaging to the environment. Unfortunately, reducing our personal carbon footprint often requires a sacrifice that many are unwilling to make. Gary Keir, a recent guest on the Sharon Kleyne Hour® Power of Water® radio show, described a new approach to carbon offset credits, Carbon Xprint Bonds, which empowers individuals to reduce their personal carbon footprint without government involvement or mandatory compliance. Not only that, investors might actually make a profit.
Kleyne interviewed Keir on the subject of climate change, individual carbon footprints, carbon credits, and Carbon Xprint Bonds on her radio show of March 28, 2016, in honor of the original March 21 Earth Day and United Nations World Water Day on March 22. The globally syndicated, education oriented show is heard weekly on VoiceAmerica (Health and Wellness, and Variety Channels) and Apple iTunes. For podcasts of past shows, go to http://www.voiceamerica.com/show/2207/the-sharon-kleyne-hour
"Sharon Kleyne Hour® Power of Water®" is sponsored by Bio-Logic Aqua® Research Water Life Science®, founded by Kleyne and specializing in fresh water, the atmosphere, body surface evaporation, dehydration and education. The Research Center's signature consumer product is Nature's Tears® EyeMist® for dry eye.
Gary Keir is an information technology specialist from New York City who has been leading Sierra Club sponsored backpacking trips in Alaska for the last 14 years. All but one has been north of the Arctic Circle. Keir is also the inventor and founder of Carbon Xprint Bonds (http://www.carbonxprint.com/)
Unlike the mitigation strategies of a carbon tax, cap-and-trade and renewable energy credits, Keir explains, Carbon Xprint Bonds are not a sacrifice. The purchaser quantitatively demonstrates their commitment to reducing greenhouse gas emissions while maintaining an interest bearing asset.
Carbon credits or offsets do not reduce carbon use or emissions for the individual purchaser, Kleyne notes. The money, however, is invested in "green" enterprises such as the manufacture of solar panels that do reduce carbon emissions. The price of the bonds, Keir explains, is linked to the current price per ton of carbon credits (generally between USD15 and USD40).
There are many online carbon footprint calculators for individuals, according to Keir. The Nature Conservancy calculator rates the annual cost of individual or household carbon usage at $15 per metric ton.
Kleyne expressed support for Keir's enterprise, noting that banks tends to be cautious in their investments whereas "millenials" (under age 35) are willing to take risks, are more willing to pay for climate change mitigation and are more willing to reduce their personal carbon footprint.
Kleyne compared the Carbon Xprint program to the Jack Ma entrepreneurial model in China. The Jack Ma model has enabled millions of small entrepreneurs with minimal investment capital to participate in China's growing consumer economy via Alibaba and Taobao on the Internet.
Kleyne notes that carbon pollution is harmful to humans – and to all life – in several ways. Increased levels of CO2 in the atmosphere, from industrial pollution, auto emissions and natural causes such as volcanic ground seepage, can cause death very quickly and in sub-lethal amounts, can cause anxiety, insomnia, fatigue, shortness of breath and many other symptoms.
CO2 in the upper atmosphere is a greenhouse gas that affects weather patterns. It's the second most abundant greenhouse gas after water vapor but the balance needs to be correct – too much or too little can result in erratic patterns.
Carbon is also the most common particulate component in industrial air pollution. Airborne carbon black particles can damage the lungs and/or migrate through body tissue to the heart or liver and damage those organs.
Keir concluded that human caused climate change can be very damaging, especially when it brings widespread drought and rising sea levels. To which Kleyne added that 80 percent of the global population lives less than 60 miles from an ocean coast that could be affected by rising sea levels.
©2016 Bio-Logic Aqua® Research Water Life Science®
Sources:
"How much dies a carbon credit cost?" Buzzle, 2016.
http://www.buzzle.com/articles/carbon-credits-price.html
"Carbon footprint calculator," The Nature Conservancy, 2016
http://www.nature.org/greenliving/carboncalculator/index.htm