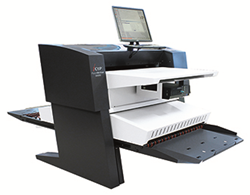 This fourth-generation product takes the best of all Glunz & Jensen technologies and extends its solution to commercial printers, small and medium newspapers, says Henry Clifford, President at RMM Associates
Ringsted, Denmark (PRWEB UK) 1 April 2016
At Drupa 2016 in Germany, Glunz & Jensen will globally launch the brand new iCtP PlateWriter 3600 Pro series. The PlateWriter 3600 Pro is based on a new technology that takes inkjet platemaking to a completely new level in productivity and usability.
The PlateWriter 3600 Pro is based on the well-known and stable solvent ink technology (the same as used in the PlateWriter 2000/2400 systems) ensuring increased stability and reliability in day to day production operations. Furthermore the PlateWriter 3600 Pro is introduced in a modern design with easy access for cleaning and maintenance. This makes the user experience even better than the earlier PlateWriter models.
PlateWriter 3600 Pro is an enhanced format model offering landscape plate loading for an even higher throughput speed. The PlateWriter 3600 Pro is suitable for 2-up, 4-up and 8–up press formats with a maximum plate size of 914 x 1140 mm (36 x 45 inches).
Glunz & Jensen has been leading the inkjet CtP market for more than 10 years now, and sets the standards within today's inkjet CtP development with close to 2,000 installations worldwide.
The PlateWriter 3600 Pro will be exhibited with "live" platemaking demonstration -
on our stand 5C38 at Drupa 2016 in Düsseldorf, Germany, May 31 – June 10, 2016!
Space-saving and affordable
The PlateWriter 3600 Pro produces press-ready aluminum plates, in just a few minutes, without the need for chemical plate processing equipment, in a total daylight environment. This affordable, self-contained and small footprint CtP system is supplied complete with Harlequin-based Xitron RIP and Dell PC system.
Digital. semi-automated and versatile
PlateWriter 3600 Pro produces digitally-imaged CtP plates, with very accurate registration and high quality suitable for process color jobs. Capable of imaging plate sizes from 210 x 311 mm (8.3 x 9.5 inches) up to a maximum of 914 x 1140 mm (36 x 45 inches) in plate thickness of 0.15, 0.2 and 0.3 mm (0.006, 0.008 and 0.012 inches), the semi-automated plate registration system provides for a very versatile plate handling approach making the PlateWriter 3600 Pro ideal for printers with multiple format offset printing presses.
Inkjet technology delivers plates without chemistry
PlateWriter applies a Liquid Dot™ image on to non-photosensitive aluminum printing plates. The imaged plates are manually fed through the integrated finishing unit that dries the plates and bonds the liquid dots to the plate surface, making them capable of printing more than 50,000 impressions on press.
Benefits the environment
The PlateWriter systems have the lowest energy usage in its class vs. laser-based systems, and it eliminates water usage, chemicals and disposal costs commonly used in traditional platemaking methods.
The PlateWriter provides substantial long-term cost savings, while being environmentally-friendly and is the perfect platemaking solution to replace older analog platemaking methods, or upgrading your polyester platemaking systems to metal offset plates.