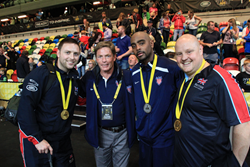 Military or not, anyone who experiences the Games will walk away changed.
Rockville, MD (PRWEB) March 30, 2016
Continuing its support for our wounded warriors and their families, Fisher House Foundation is proud to announce its sponsorship of the 2016 Invictus Games in Orlando, FL, May 8-12 at the ESPN Wide World of Sports Complex.
The Invictus Games is a Paralympic-style, multi-national event that is open to all wounded, injured and ill military personnel and Veterans. This is the second Invictus event that Fisher House Foundation has sponsored. At the inaugural Invictus Games in London in 2014, Fisher House Foundation was not only a sponsor for the games, but also hosted the US family program, ensuring family members of our American athletes could share in the excitement and healing process.
"We see this as a continuation of our mission of building 'homes away from home' for our military and Veterans' families," said Ken Fisher, Chairman and CEO of Fisher House Foundation, and Chairman of the Organizing Committee of Invictus Games Orlando 2016. "We make it possible for families to be together during a medical crisis, but we also want them to be there during the height of their recovery. These games, like America's Warrior Games, have an amazing impact on the recovery and morale of both the athletes and families."
The 2016 Invictus Games will feature 500 athletes from 15 nations: Afghanistan, Australia, Canada, Denmark, Estonia, France, Georgia, Germany, Iraq, Italy, Jordan, Netherlands, New Zealand, United Kingdom and the Unites States of America. Sports such as track and field, wheelchair basketball, sitting volleyball, archery, swimming and many more, challenge our injured and ill military and Veterans to adapt to a "new normal," long after the Games are over. Military or not, anyone who experiences the Games will walk away changed.
"I was so moved by the Invictus Games in London," said Ken Fisher. "Not only were the families inspired and swept away by the excitement, but it was a chance to connect to other countries' warriors and families. One of the athletes who won gold, silver and bronze medals in London said it perfectly, "We are all fighting the same battle and that battle is with ourselves—we are all winners.'"
To learn more about the Games or to purchase tickets, go to http://invictusgames2016.org/.
About Fisher House
Fisher House Foundation is best known for a network of comfort homes where military and veterans' families can stay at no cost while a loved one is receiving treatment. These homes are located at major military and VA medical centers nationwide, and in Europe, close to the medical center or hospital it serves. Fisher Houses have up to 21 suites, with private bedrooms and baths. Families share a common kitchen, laundry facilities, a warm dining room and an inviting living room. Fisher House Foundation ensures that there is never a lodging fee. Since inception, the program has saved military and veterans' families an estimated $282 million in out of pocket costs for lodging and transportation.
Fisher House Foundation also operates the Hero Miles Program, using donated frequent flyer miles to bring family members to the bedside of injured service members as well as the Hotels for Heroes program using donated hotel points to allow family members to stay at hotels near medical centers without charge. The Foundation also manages a grant program that supports other military charities and scholarship funds for military children, spouses and children of fallen and disabled veterans.