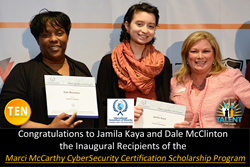 "Jamila and Dale both displayed a lot of passion, energy and motivation and exemplify the future of a cybersecurity professional." - Marci McCarthy
Atlanta, GA (PRWEB) March 30, 2016
T.E.N., a technology and information security executive networking and relationship-marketing firm and ISE® Talent, an information security recruiting firm specializing in executive-level searches as well as high-demand industry skill-sets and specializations awarded the inaugural Marci McCarthy Cybersecurity Certification Scholarship Program to its first two undergraduates during the 2016 National Conference of Minority Cyber Security Professionals hosted by the International Consortium of Minority Cybersecurity Professionals (ICMCP). Last Thursday, March 24, 2016. Marci McCarthy, CEO & President of T.E.N. and CEO & Chairman of ISE® Talent, announced that after a thorough and extensive decision process, Jamila Kaya and Dale McClinton would be the first two scholarship recipients.
The Marci McCarthy Cybersecurity Certification Scholarship Program provides $5,000 over a two-year period to help talented. high achieving Female, Veteran, African American, Hispanic American, Native American, Asian Pacific, Asian Indian or sub-Saharan African active ICMCP members who have demonstrated academic excellence, leadership skills, and a commitment to Science, Technology, Engineering & Math (STEM) careers to include cybersecurity, digital forensics and information assurance.
"Jamila Kaya and Dale McClinton both displayed a lot of passion, energy and motivation and exemplify the future of a cybersecurity professional. I know that both of them will go on to do great things and be leaders and innovators in the field of cybersecurity," said McCarthy
"I am overjoyed to have been chosen to receive this scholarship and to have met so many wonderful individuals at this years ICMCP National Conference," said Kaya. "The show of support that the award symbolizes is tremendously rewarding in its own right as I know that the Marci McCarthy, ICMCP, and the community are willing to give from themselves to keep me curious and I will work hard not to disappoint them."
Kaya is currently in her second year at Whatcom Community College pursuing an AAS-T in Cybersecurity. After learning about the college's new cybersecurity program, Kaya decided to enroll these new course. Despite some initial nervousness, she didn't let anything hold her back and soon joined the college IT Club and began showing up at the college's Cyber-Defense team practices every week. She is pursuing a Bachelor's Degree in IT-Security and wants to eventually earn a Master's of Science in Cybersecurity Engineering.
"I spent two days in awe, surrounded by the Superstars of Cybersecurity," said McClinton. "To top it all off with such generous scholarships. I am still emotional about the experience. After this amazing experience and with this opportunity, I am even more committed to finishing my Masters degree and certifications in Cybersecurity. This all would not be possible without the philanthropic donation of Marci McCarthy and the support of ICMCP.'
McClinton is a graduate student of the University of Baltimore. She serves as a member of her university's alumni board and is currently an intern with the U.S. Department of Agriculture (USDA) Pathways Program in Riverdale, Maryland. In this position, she is responsible for gathering information and data, evidence collection, storage and security of records, personnel records and related issues, privacy issues, security of customer information, duties and obligations of the information technology field. She also creates standard operating procedures for data encryption/decryption, imaging and document archiving along with maintaining Personally-Identifiable Information (PII) and other confidential information securely.
"Too many times, the expense of higher education and industry certifications is a roadblock for someone looking to take that next step in reaching their career goals. It is my hope, that by offering these scholarships, the roadblock will start to be removed, the doors of opportunities will open and will ultimately help employers make strides in hiring the qualified talent and for us to have a meaningful representation of women and minorities working in the cybersecurity industry overall," said McCarthy.
Applicants must be:

Female, Veteran, African American, Hispanic American, Native American, Asian Pacific, Asian Indian or sub-Saharan African active ICMCP Members
U.S. citizens or permanent residents
Active as a volunteer on one or more ICMCP Committees
ICMCP Scholarship Application: https://icmcp.org/programs/educational-funding/
About T.E.N.
T.E.N., a national technology and security executive networking organization, facilitates peer-to-peer relationships between top executives, industry visionaries and solutions providers. Nominated for numerous industry awards, T.E.N.'s executive leadership programs enable information exchange, collaboration and decision-making. Its flagship program, the nationally-acclaimed Information Security Executive® (ISE®) of the Year Program Series and Awards, is North America's largest leadership recognition and networking program for security professionals. Other offerings include The ISE® Lions' Den and Jungle Lounge, T.E.N. Custom Programs and the ISE® Industry Expert Advisory Services, empowering IT solutions providers to gain access to highly credentialed IT business veterans' expertise. For information, visit http://www.ten-inc.com.
About ISE® Talent
ISE® Talent specializes in executive-level searches as well as high-demand industry skill-sets and specializations. ISE® Talent also puts an emphasis on emerging specializations, and critical security skill sets that translate across all industry verticals. More than just a search firm, ISE® Talent serves as a trusted partner in identifying, evaluating, recruiting, and presenting top level candidates that fit our clients' unique requirements. A 100% woman-owned business, ISE® Talent is a division of T.E.N., the leading national technology and security executive networking firm that facilitates peer-to-peer relationships between top executives, industry visionaries and solution providers. Learn more about ISE® Talent by visiting http://www.isetalent.com
About ICMCP
The ICMCP, launched in 2014, is a volunteer-led 501(c)3 non-profit organization. ICMCP is working to bridge the minority gap in the cybersecurity sector by providing scholarship opportunities, technical training programs, innovative outreach, mentoring and networking programs targeting women and minority cybersecurity professionals worldwide and by promoting academic and technical excellence in the industry. Learn more about ICMCP by visiting http://www.icmcp.org
Twitter: http://www.twitter.com/icmcp_org