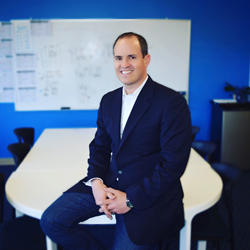 I am passionate about TransVoyant's mission to provide live and predictive insights early enough for our customers to make better decisions.
Alexandria, VA (PRWEB) March 31, 2016
TransVoyant today announced that David Panitz has joined the company's leadership team as Executive Vice President and Managing Director overseeing the scaling of TransVoyant's enterprise live and predictive intelligence solutions globally. Panitz, a strategic leader with more than two decades of experience in global commerce, supply chain and manufacturing operations, channel alliances, international business development, and high growth technology solutions, will build on TransVoyant's burgeoning traction in the enterprise risk and supply chain IoT arenas. The company's ability to converge live streaming data, historical pattern analysis and predictive analytics empowers real-time, high consequence decision making for Fortune 1000 market innovators.
"David has over 20 years of global commerce, operations, corporate development, product innovation and strategic partnership leadership experience and is a talented early stage company builder and customer value generator," said Dennis Groseclose, President & CEO of TransVoyant. "David has held positions overseeing global sales and operations from technology startups to leadership roles at multi-billion-dollar retailers – consistently igniting rapid revenue and partnership growth. I look forward to David joining the team and driving TransVoyant's enterprise business at this time of enormous opportunity."
As an innovative business and technology innovator, David has been a strategic leader and advisor to several high tech businesses, including cloud-based mission critical solution provider C-Bridge. At C-Bridge, David served as Business Unit President where he was a key driver of the company's operations and growth – guiding the company to a successful IPO in under three years. In addition to David's robust enterprise technology background, he brings over 15 years of experience in global commerce for leading high profile consumer goods companies. David has served as Chief Operating Officer and held strategic leadership positions for such global brands as Ralph Lauren, Club Monaco, Chaus, Hickey Freeman and Marc Ecko. As COO of Club Monaco, he was responsible for global operations and business development for the $250M company and spearheaded global retail expansion.
"I am passionate about TransVoyant's mission to provide live and predictive insights early enough for our customers to make better decisions that improve their customer engagements, increase revenue, decrease costs and reduce risk in their worldwide operations," said David. "It's important to see globally occurring events – weather, traffic, shipping, social media – as well as financial, consumer and operations data in real time to get a high fidelity situational picture. TransVoyant not only provides this analysis and visualization, but we turn these events into forecast intelligence that delivers enough lead time to influence decisions and make a significant business impact. I look forward to bringing to market these innovative predictions and insights to users all around the world."
About TransVoyant
TransVoyant puts the power of global live and historical data and advanced analytics into the hands of decision makers for the first time. TransVoyant's mission is to help people make better decisions by providing them with timely and actionable insights on globally occurring real-time and predicted events—ranging from forecasted port disruptions and precise shipment arrival times to trending consumer demand to real-time threats to inventory and facilities. TransVoyant solutions provide better future outcomes—for individuals, for businesses, and for nations. For more information on TransVoyant's live and predictive suite of solutions, visit http://www.transvoyant.com.