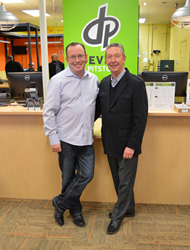 The Jumpstart Program is unquestionably one of the most aggressive efforts ever put forth by NTY Franchise Company to support new franchisees.
(PRWEB) April 05, 2016
Resale pioneers Ron and Chad Olson have always had a jump on the competition in the $12 billion resale industry. Now they're leaping ahead of the franchising world in the fierce battle for franchise development.
NTY Franchising Company, the Olsons' burgeoning upscale resale franchise, today released details of its new Jumpstart Program, offering $40,000 in funding for marketing initiatives for new franchisees.
"This is unquestionably one of the most aggressive efforts ever put forth by a resale franchisor to support new franchisees," said Chad Olson, COO of NTY Franchise Company. "It should send a clear message to franchise candidates regarding our commitment to their success."
How candidates can jump at the opportunity:
The Jumpstart Program is available for new franchisees opening Children's Orchard, NTY Clothing Exchange or New Uses stores. The $40,000 breaks down to $20,000 in grand opening marketing dollars and an additional $20,000 in marketing dollars that will be paid in $5,000 increments every six months. The program will apply to the first 20 franchises opened for each brand in 2016.
Reaping rewards in resale
Ron and his son, Chad, have invested decades franchising the biggest resale brands in America, including household names like Play it Again Sports and Clothes Mentor. Now celebrating 10 years as the fastest growing developer of franchise brands in America, NTY Franchise Company and its vision of an upscale retail experience for resale has resulted in exponential growth. Clothes Mentor, the women's clothing reseller, has jumped from three locations to more than 100 in less than a decade, one-upping the consignment concept by paying cash up front, no waiting, demanding current styles in near perfect condition.
The Jumpstart Program incentivizes franchise candidates to invest in the proven resale model successfully executed by Clothes Mentor into new resale sectors, including young children (Children's Orchard), teenagers and young adults (NTY Clothing Exchange) and home goods (New Uses).
"This is what franchising does best — take proven success models combined with unparalleled support and grow the brands into new markets," Chad Olson said. "We believe the success we've had growing the Clothes Mentor brand will repeat with these three brands, and we're putting up the dollars to prove it."
###
About NTY Franchise Company
Founded in 2006 by Ron Olson, NTY Franchise Company is the gold standard in resale franchising companies. NTY franchises five brands, all with a different focus: Clothes Mentor, Children's Orchard, Device Pitstop, New Uses, and NTY Clothing Exchange. The brands are all resale-based and cover women's designer fashions, children's apparel and accessories, furniture and household goods, electronic sales and repair, and clothing for teens and young adults. All are great business opportunities with cutting-edge technology, unmatched support, and lucrative resale franchises. NTY Franchise Company has helped individuals to establish resale stores throughout the United States in many communities, and it has territories available to develop nationwide.