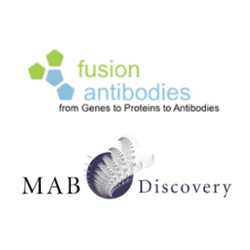 The planned collaboration will enable us to provide our customers added value
Belfast, UK and Neuried, Germany (PRWEB UK) 31 March 2016
Fusion Antibodies, a UK-based contract research organisation and MAB Discovery, a unique antibody discovery company, today announced their intention to enter into a research and licence agreement in the field of monoclonal antibodies. Within the scope of this collaboration, Fusion Antibodies will apply its proprietary CDRx™ Multiplex humanization platform to generate therapeutic antibodies selected and produced by MAB Discovery. MAB Discovery will provide high-quality humanized antibodies ready for further development to potential partners.
"We are very pleased to be working with Fusion Antibodies, a well-respected antibody engineering firm with strong expertise in humanization," said Dr. Stephan Fischer, Chief Executive Officer of MAB Discovery. "The planned collaboration will enable us to provide our customers added value by offering high-quality humanized antibodies that are ready to be validated and brought into development. We also expect that combining our technologies will reduce the time from target to clinical candidate."
"Through this collaboration we are able to create synergies and provide clients with perfect antibody candidates. They will get access to rapid discovery and development of new antibodies through MAB Discovery's unique immunization and B cell cloning technology. MAB Discovery has developed a rabbit-based platform that produces monoclonal antibodies with unprecedented epitope coverage and potency," said Dr Paul Kerr, Managing Director, Fusion Antibodies.
About Fusion Antibodies
Fusion Antibodies; a UK based life science company, with innovative technologies and world-class expert services for antibody drug discovery, are specialists in production of High Quality Humanized Monoclonal Antibodies, Antibody Engineering Projects and cell line development. With 15+ years of experience in the medical research & diagnostic industry, with >50 humanized projects to date (from Rabbit, Rat, Mouse, Chicken, Llama); Fusion Antibodies have extensive experience in accelerating therapeutic immunotherapy research towards the clinic.
Fusion Antibodies has the knowledge and expertise to build and deliver a modular package of the services you need to achieve outstanding results. They provide Royalty Free Antibody Humanization of Monoclonal Antibodies and using their next generation in-silico CDRx™ technology, they have modernized the traditional CDR grafting technique. Fully humanized monoclonal antibodies are an essential step in the progression of therapeutic drugs to the clinic and the in-house expertise at Fusion Antibodies ensures its success. Visit their website to find out more at http://www.fusionantibodies.com
About MAB Discovery and its technology platform
MAB Discovery is focused on creating a vast repertoire of high quality monoclonal antibodies in terms of potency and epitope coverage for its clients, who include biotech and pharmaceutical companies such as Sanofi, GenMab A/S, Synthon Biopharmaceuticals and others.
MAB Discovery's proprietary technology utilizes the natural antibody maturation process following immunization. Rather than relying on conventional single hit optimization techniques of a few selected antibodies, the MAB Discovery approach creates a diverse collection of many hundreds of high affinity antibodies. The company uses state-of-the-art automation to select and clone B cells expressing matured antibodies deriving from the immunized animal's entire repertoire to a given immunogen. Using this sophisticated high throughput approach enables MAB Discovery to select antibodies for functionality at an early stage and not just by simple binding. The MAB Discovery team represents a group of scientists out of Roche Biologicals R&D with extensive experience in developing biologically based therapeutics. For more information, please visit http://www.mabdiscovery.com.
Contact:
Fusion Antibodies
Dr. Paul Kerr, Managing Director
+44(0) 2890 432800
paul.kerr(at)fusionantibodies(dot)com
MAB Discovery:
Dr. Stephan Fischer, CEO
+49 89 990 178-0
stephan.fischer(at)mabdiscovery(dot)com
For media inquiries:
MC Services AG
Katja Arnold
Phone: +49 89 210 228-40
katja.arnold(at)mc-services(dot)eu