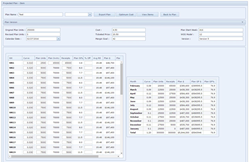 Item Planner is the ultimate collaboration tool because both Buyers and Suppliers can work from the same set of numbers and always know where the performance of an item stands- meaning no surprises - Jim Lewis, Founder and CEO of Enhanced Retail Solution
New York, NY (PRWEB) April 05, 2016
Enhanced Retail Solutions (ERS), a leading provider of Software-as-a-Service (SaaS) retail analytic and demand planning solutions to suppliers, licensors and their retail trading partners, today announces a newly rewritten version of its Ladder and Margin Planning Tool.
Item Planner was created for planners who need to consistently monitor sales, inventory and profitability of their retail programs. Plans can be based on sales and inventory history, seasonality, the promotional cadence and profitability requirements. Users can then track business week by week, watching for trends that effect profitability and taking action to optimize performance. It allows the user to conduct multiple "what if" scenarios to see what effect they could have on results. And because Item Planner is integrated with our ad-hoc reporting tool it allows users to format its output in reports exactly the way they want them. They can pick column fields, reporting level (item, style, brand, etc.), time periods and create key comparisons such as This Year Plan vs. Last Year, Weekly and Cumulative Sell Through, This Year Actual vs. This Year Plan and Last Year, and Receipt Planning.
"Item Planner is the ultimate collaboration tool because both Buyers and Suppliers can work from the same set of numbers and always know where the performance of an item stands- meaning no surprises" says Jim Lewis, founder and CEO of Enhanced Retail Solutions. "Both can track plan versus actual every week and revise plans in-season to reflect reality".
About Enhanced Retail Solutions LLC:
Enhanced Retail Solutions is a software and consulting firm specializing in retail analysis and demand planning for manufacturers, licensors and their retail partners. ERS' state of the art software tools and consulting deliver critical data quickly, easily and cost effectively, adding over one hundred million dollars to their clients' bottom line. ERS' broad customer base includes industry leaders in the electronics, consumer products, apparel, footwear, home textile, toy, home décor, home improvement, housewares, jewelry and food industries. Headquartered in New York City, Enhanced Retail Solutions has offices in the Dallas, TX and development in the US, Cork, Ireland and Delhi, India. For more information, visit http://www.EnhancedRetailSolutions.com.