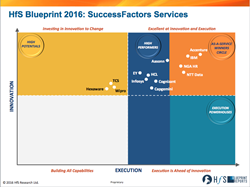 "NGA Human Resources is a market leader in the delivery of services around SAP SuccessFactors" said Khalda De Souza, Principal Analyst at HfS Research and author of the recent HfS Blueprint on SAP SuccessFactors Services.
London, United Kingdon (PRWEB) March 31, 2016
NGA Human Resources a leading provider of global HR solutions and services, today announced that it has been positioned as a leader in the first HfS Blueprint: SuccessFactors Service, "As-a-Services Winner's Circle."
NGA has been recognised for its global delivery capabilities, innovation for SuccessFactors, including its end-to-end delivery capabilities, its HR Cloud Accelerators, developed on the SAP HANA Cloud Platform, and its solid and forward-thinking integration with local and global payroll solutions.
The HfS Blueprint 2016: SuccessFactors Services report evaluates the capabilities of the 13 key SuccessFactors vendors* recognised as key components in this market.
"NGA Human Resources is a market leader in the delivery of services around SAP SuccessFactors" said Khalda De Souza, Principal Analyst at HfS Research and author of the recent HfS Blueprint on SAP SuccessFactors Services.
"We placed NGA HR in the As-a-Service Winner's Circle in our Blueprint because of capabilities in both execution and innovation. NGA HR has deep experience with the services required for global rollouts of SAP SuccessFactors and a vision for HR and payroll delivery that is valued by clients as a differentiator. HfS also recognized NGA HR for having flexibility in service delivery and pricing structure," continued Khalda.
"Being positioned in the Winner's Circle in the first HfS SuccessFactors Blueprint is great recognition of our strategy to provide organisations across the world with intelligent 'As-A-Service' HR and payroll solutions; solutions that put the employee experience front and central," said Michael Custers, SVP Strategy & Marketing at NGA Human Resources.
According to the HfS report, SuccessFactors services leaders deliver flexible, user-friendly solutions to enable enterprises to better manage their HR or CRM processes. The leaders have demonstrated consistent year-on-year growth and strong customer retention rates, both achieved by their abilities to focus on desired business outcomes.
In parallel with the HfS Winner's Circle being announced, NGA has achieved a Net Promoter Score of +37 for its HR Consulting Services, a position that is well above the average for Professional Services companies.
"Clients are truly at the heart of our business and we work incredibly hard to understand the HR needs of our customers. The customer consensus is that NGA drives HR success and people-critical business outcomes, with eight out of 10 of our clients saying they plan to extend the scope of services they procure from NGA," explained Michael Custers.
About the HfS Blueprint: SuccessFactors Services Report
The 2016 HfS SuccessFactors Services Blueprint Report continues HfS's theme of looking at services sets regarding the planning, implementation, management, and operations of leading software-as-a-service platforms. This Blueprint Report looks at the innovation and execution capabilities of thirteen service providers in detail.
A complimentary copy of the HfS Blueprint report can be downloaded here.
***
About NGA Human Resources
NGA Human Resources is a global leader in helping organizations transform their business-critical HR operations to deliver more effective and efficient people-critical services. We help our clients become better employers through smarter, more streamlined business processes - to save money, manage employee life cycles and support globally connected, agile organizations. This is how NGA makes HR work better.
NGA Human Resources works with one out of five Fortune 500 companies, supporting more than six million employees worldwide. We provide HR and payroll services to more than 145 countries through delivery centers on 5 continents, serving clients in more than 25 languages.
About HfS Research
HfS Research is the leading analyst authority and global community for IT services and business operations, helping enterprises validate their global operating models with world-class research and peer networking.
In 2014, HfS coined the phrase the "As-a-Service Economy" to address the challenges of the IT services and business operations industry amidst disruption to global business models and the impact of Digital technologies.
***
More information
Media Contacts:
(US) Shannon Karl
Tel: +1 918 516 2035
Email: shannon(dot)karl(at)ngahr(dot)com
(RoW) Caroline Garstang Howlett
Tel: +44 7814 589425
Email: caroline(dot)garstang(at)ngahr(dot)com