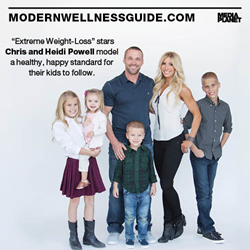 (PRWEB) March 30, 2016
This is not something we simply might change, but rather something we must change. If we don't solve this problem now, many families will face chronic obesity-related health problems like heart disease, high blood pressure, Type 2 diabetes, cancer and asthma.
Mediaplanet's first cross-platform edition of "Family Wellness" sheds light on the exciting strides our nation has made in continuing to make the right choices for themselves and their families when it comes to diet, exercise and overall health. This campaign focuses on what real families can do moving forward, despite the challenges that are built into our culture and lifestyle.
"Extreme Weight Loss" hosts, Chris and Heidi Powell, grace the cover of the print publication. Through an exclusive interview with Mediaplanet, they open up about the challenges and rewards of pushing their family toward a healthier lifestyle. "The very first thing is to lead by example," says Heidi. "One thing we realized is that kids don't want to do what you say—at all; kids actually want to do what you do." Chris agrees, adding, "You should create an environment for success. Clean out all of the foods in the house that are slippery-slope foods and rearrange the house so it's a little more conducive to movement. That's one of the biggest things." Though eating right and exercising can be challenging, Chris says the results are worth it and that he sees people learn to love themselves every day.
The print component of "Family Wellness" is distributed within Wednesday's edition of USA Today in Chicago, Los Angeles, New York, Phoenix, and Washington D.C./Baltimore, with a circulation of approximately 250,000 copies and an estimated readership of 750,000. The digital component is distributed nationally, through a vast social media strategy, and across a network of top news sites and partner outlets. To explore the digital version of the campaign, click here.
This edition of "Family Wellness" was made possible with the support of ABC's "Extreme Weight Loss" hosts Chris and Heidi Powell, First Lady Michelle Obama, Alliance for a Healthier Generation, Partnership for a Healthier America, Fresh Healthy Vending, Rainbow Play Systems, Life is Good, Fuel Up to Play 60, National Dairy Council, National Football League, Pepperidge Farm, MINDBODY and many more.
About Mediaplanet
Mediaplanet is the leading independent publisher of content-marketing campaigns covering a variety of topics and industries. We turn consumer interest into action by providing readers with motivational editorial, pairing it with relevant advertisers and distributing it within top newspapers and online platforms around the world.