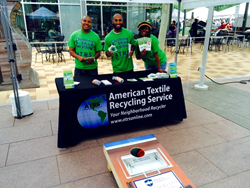 (PRWEB) March 30, 2016
It's that time of year again! American Textile Recycling Service (ATRS) is gearing up for Earth Day 2016, a global celebration of environmental democracy that gains more momentum every year. While Earth Day is officially recognized on April 22, corporations, municipalities and nonprofit organizations host community events and workshops all month long.
This year, Earth Day Network is honoring the 46th anniversary of this holiday with a campaign to broaden, diversify and mobilize communities across the world. The goal is for citizens everywhere to be mindful of how their actions affect the planet as a whole, while simultaneously celebrating all that Mother Earth has to offer.
ATRS will be sponsoring or exhibiting at a total of 20 Earth Day events across 13 metropolitan areas. This surpasses the company's previous record high of 16 events in 2015. Returning event partners like Earth Day Texas and Georgia Tech are accompanied by new names like Cyclovia Tucson and University of Houston. These partners have joined the campaign to reach 3 Billion Acts of Green by offering on-site Clothing & Shoe Donation drop offs at their events.
"We are so excited to meet even more families, residents and eco-minded advocates this year," says Debra Stevenson Peganyee, Chief Marketing Officer for ATRS. "These events are fun and informative for the entire community. Come on out and help us spread the word about textile recycling while taking selfies with our famous green fairies!
Attendees are encouraged to bring a bag of gently used, out of season, unwanted clothing, shoes, toys and other household textiles for donation and recycling at participating events. They can also stop by the ATRS exhibiting area to play the all-ages Recycler Toss Game and pick up the company's highly coveted plantable wildflower bracelets, which are wearable and grow in soil as reminder to recycle year round.
A sustainable lifestyle begins at home, when residents or families choose to give their unwanted items a second life instead of throwing them away. Each individual generates approximately 70 pounds of textile waste per year, with only 15% of it donated for reuse, repurpose or recycling. Earth Day is an ideal time to remind attendees just how easy it is to drop off these items year-round at signature orange ATRS Clothing & Shoe Donation bins located conveniently where we all live, work, shop and play. Just call the 24-Hr Hotline at 866-900-9308 to find a bin near you.
For an interactive map with details about ATRS sponsored Earth Day events near you this April, visit atrscorp.com/earthday.
About American Textile Recycling Service
American Textile Recycling Service (ATRS) is the nation's fastest growing textile recycler. Its socially responsible business model provides free textile recycling solutions for the public, job stimulation worldwide and much-needed funding for worthy local charities. Easy, convenient ATRS Donation Bins are available throughout Colorado, Texas, Florida, Michigan, Tennessee, Atlanta, Oklahoma, Arizona, Indiana and Southern California. ATRS is committed to keeping textile waste from local landfills and promoting a greener tomorrow. For press inquires contact pr (at) atrsonline (dot) com.