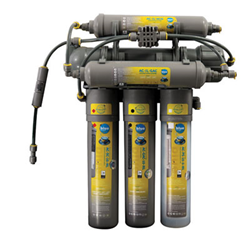 Reedsburg, WI (PRWEB) April 04, 2016
Hankscraft H2O Products has partnered with Bluefilters to distribute their products exclusively in the U.S. and Canada. These German-engineered water filters and filtration systems are widely used to high acclaim throughout Europe, South America, Africa and South-East Asia. As concern about water contaminants increases, it is even more critical to provide consumers with highly-effective, reliable solutions for safe, clean and odor-free water. Bluefilters systems do just that, and they are now easily accessible to home and business owners nationwide in the U.S. and Canada.
What makes these systems so special? Take the RO-6-BF reverse osmosis system, for example. It has 5 stages of filtration, including heavy-duty sediment, activated carbon, combined sediment and activated carbon, RO membrane and post RO activated carbon cartridges. Once water passes through the filtration process, a 6th stage re-mineralizing cartridge returns beneficial minerals back into the water. Optional permeate and booster pumps are available to raise water pressure and increase the overall efficiency of the system.
The RO-6-BF system is compact and can be installed in spaces where traditional RO systems will not fit. Initial setup is incredibly easy and the high-quality media ensures optimal performance and extended cartridge life. Consumers will appreciate the attention to detail that Bluefilters has considered to make the process of getting better water simple and worry-free. These systems are also NSF certified to remove lead and other dangerous contaminants from drinking water, giving consumers peace of mind that the water they are drinking is safe to consume.
Bluefilters are now backed by Hankscraft Inc.'s nearly 100 years of design and engineering excellence. Hankscraft's mission is to deliver value through innovation, creativity and diversification through products that improve our way of life. For more information, visit hankscrafth2o.com or call 608-524-4341 x125.
Hankscraft H2O Products Facebook Page
Hankscraft H2O Products Twitter Page