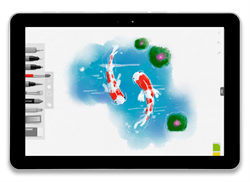 Paris, France (PRWEB) April 01, 2016
Tayasui, a French independent development studio pioneer in the design and publishing of mobile applications, today launched Sketches II for the iPad and iPhone, the latest release to the company's popular Sketches family, which has more than 20 million downloads to date. This new version of the award-winning Sketches application has been entirely re-engineered with the support of a new 64 bits engine specifically created to respond to the 300,000+ weekly active users requests and expectations. This major update features even more powerful and realistic brushes, a streamlined interface, incredible watercolor effects and 4 new highly demanded tools: cutter, smudge, ruler and ink.
"The latest Sketches app really builds on the qualities that have made the product so popular," said Yann Le coroller, CEO, Tayasui. "The new brushes bring an even more traditional feel to the application, but equally important are the enhancements we've made to the user interface. Sketches II is going to be exciting for both new and experienced users!"
The new redesigned user interface in Sketches II delivers an overall top-notch organization, enabling to mix both Portrait and Landscape images with an improved drawing management system and access to import and export made much easier. On iPhone the UI has been completely rethought for a much better fit to this particular medium.
Lastly, a set of new tools wraps this souped up version. The cutter, which permits to cut and paste and duplicate part of a drawing. The smart ruler, which simplifies horizontal and vertical outlines and a new incredibly realistic Ink pen.
Sketches II is the most comprehensive, versatile and user-friendly sketching app ever designed for a mobile device. This exhaustive artist's toolbox helps you create dazzling sketches, cheerful paintings and smashing illustrations anywhere you are. Current owners of Sketches will automatically benefit from the upgrade to Sketches II without any additional purchase. The new features will only be available for the Sketches II Pro version or through IAP purchase.
Device Requirements:

Compatible with iPhone, iPad
Requires iOS 8.1 or later
Optimized for iPad Pro and Apple pencil
86.8 MB
Pricing and Availability:
Sketches II is available for free worldwide exclusively through the App Store in the productivity category.
https://itunes.apple.com/us/app/tayasui-sketches-draw-paint/id641900855?mt=8
Sketches II Pro is $4.99 USD and available worldwide exclusively through the App Store in the productivity category.
https://itunes.apple.com/us/app/tayasui-sketches+/id671867510?mt=8
###
About Tayasui
Tayasui is a French independent mobile applications developer, focusing on delivering playful and creative applications with a special dedication to user-friendly interfaces. Since the successful launch of its first application Talking Carl, which was showcased in 2011 at the New York MoMA exhibition Talk to me, the Tayasui community keeps growing with more than 20 million downloads to date.