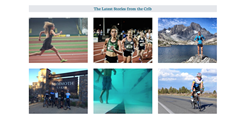 Mammoth Lakes, CA (PRWEB) March 30, 2016
Now in its fifth year the Mammoth Lakes Crib has hosted Olympic runners, professional road cyclists, national champion mountain bikers, world-champion triathletes and a litany of elite endurance athletes hoping to join their ranks. A home-away-from-home for athletes looking to benefit from the unique combination that makes Mammoth Lakes one of the world's best high-altitude training destinations, the Crib is now open for 2016.
"When it comes to endurance training locales, there are mountain towns and then there's Mammoth Lakes," said John Urdi, Executive Director of Mammoth Lakes Tourism. "The altitude is really just a piece of it. When you ask the athletes about why they come here, it's the elevation, the terrain and facilities. But the thing that really separates Mammoth Lakes is the community, which completely embraces and supports both visiting athletes and our local heroes alike."
Housing up to six athletes at a time, the Mammoth Lakes Crib provides housing and support to professional and elite athletes looking to benefit from a training stint in the Eastern Sierra. And benefit they have. Professional road cyclist Ben Jacques Maynes credited a stay at the Crib with helping him win King of the Mountain honors at the 2014 USA Pro Cycling Challenge. Two of America's most successful and decorated distance runners, Olympians Meb Keflezighi and Deena Kastor have also made Mammoth Lakes their home training ground and will be joined by a host of athletes this summer hoping to follow their path to the Olympics.
In recent years the Crib has evolved into more than just a home base, with a website serving as a resource for athletes (elite and otherwise) planning a trip to Mammoth Lakes with trail and route recommendations, tips on training at elevation and information on events. It's also become a hub, telling visiting athletes' stories and connecting them with local runners and cyclists on their weekly club rides and runs.
"The athletes certainly have benefited but the town has as well over the last five years," said Urdi. "There's a sense of pride knowing that we're contributing to the success of these athletes. This being an Olympic year, I'm excited to see how some of our guests do."
Check http://www.visitmammoth.com/ for more information and to get started booking a Mammoth Lakes vacation.