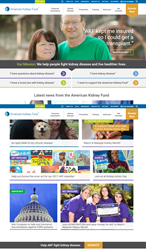 Our new website was built with the user in mind, making it a one-stop resource for all things kidney.
Rockville, MD (PRWEB) March 30, 2016
The American Kidney Fund, the nation's leading nonprofit working on behalf of the 31 million Americans with kidney disease, has launched a redesigned website, KidneyFund.org, to better meet the needs of people looking for information on kidney health and kidney disease. The site features streamlined, intuitive navigation and a responsive design that adjusts to display optimally on any device, including tablets and mobile phones.
The new KidneyFund.org has a vibrant design that highlights powerful stories of individuals who are fighting kidney disease with AKF's help and who are partnering with AKF as advocates and fundraisers. Special features accessed from the home page provide information for site visitors with specific interests: "I have questions about kidney disease," "I have kidney disease," "I have a loved one with kidney disease," and "I want to support the American Kidney Fund."
"Three million people last year turned to KidneyFund.org for authoritative information about kidneys and kidney disease, our financial assistance programs for patients, our free health screenings and special events, our research and education programs, and how they can support our vital mission. Our new website was built with the user in mind, making it a one-stop resource for all things kidney," said LaVarne A. Burton, president and chief executive officer of the American Kidney Fund.
Kidney patients, kidney care professionals, supporters of AKF and members of the general public participated in several rounds of user testing throughout site development so that the new site could meet the needs of visitors.
Mega menus guide site visitors to the information they are seeking, offering quick and easy access to essential information about kidney disease, its symptoms, treatment and prevention, and the programs of the American Kidney Fund, including patient grant programs, health education, and advocacy. Utility navigation at the top of the screen links visitors to information about AKF, AKF's blog Kidney Today, AKF's newsroom and Spanish-language content. KidneyFund.org also offers visitors information about how to support AKF's charitable mission and how to become involved with AKF in other ways.
The redesigned KidneyFund.org was made possible in part by an educational grant from Amgen and additional support from Relypsa.
About the American Kidney Fund
As the nation's leading nonprofit working on behalf of the 31 million Americans with kidney disease, the American Kidney Fund is dedicated to ensuring that every kidney patient has access to health care, and that every person at risk for kidney disease is empowered to prevent it. AKF fulfills its mission by providing a complete spectrum of programs and services: prevention outreach, top-rated health educational resources, and direct financial assistance enabling kidney patients to access lifesaving medical care, including dialysis and transplantation.
AKF helps 1 out of every 5 U.S. dialysis patients with treatment-related expenses. More than 93,000 patients in all 50 states received AKF grants last year. AKF invests in clinical research to improve outcomes for kidney patients, and fights tirelessly on Capitol Hill for legislation and policies supporting the issues that are important to kidney patients. To address the enormous public health threat of kidney disease, AKF provides public and professional health education materials and courses, the Kidney Action Day® community outreach program, a Kidney Health Educator program, and a toll-free health information HelpLine (866.300.2900). AKF's grassroots fundraising platform, KIDNEYNATION, unites Americans who are raising funds to support the organization's mission.
AKF spends 97 cents of every donated dollar on programs and services. AKF holds the highest ratings from the nation's charity watchdog groups, including Charity Navigator, which includes AKF on its "top 10" list of nonprofits with the longest track records of outstanding stewardship of the donated dollar.
For more information, please visit KidneyFund.org, or connect with us on Facebook, Twitter and Instagram.