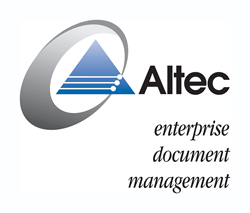 Microsoft Envision will be an invaluable opportunity for us to demonstrate how doc-link affords Microsoft Dynamics users the ability to improve their operational efficiency by easily managing the capture, workflow and management of documents.
Laguna Hills, CA (PRWEB) March 30, 2016
Altec Products, Inc., a leader in enterprise document management and workflow solutions, announced today their Silver Sponsorship as a ISV (Independent Software Vendor) at Microsoft Envision 2016. The inaugural end user and partner conference will take place at the Ernest N. Morial Convention Center in New Orleans, Louisiana from April 4th through 6th. Altec will highlight integrated document management and workflow solution doc-link, which is seamlessly integrated with Microsoft Dynamics AX, GP, NAV and SL to control the entire document lifecycle; offering a secure, single repository to store, search and retrieve all documents, effectively eliminating the need to file paper documents.
Altec's integrated document management and workflow product, doc-link has achieved Microsoft Corporation's highest standards for partner-developed software solutions as a Certified for Microsoft Dynamics (CfMD) product. Envision attendees interested in learning about the business advantages of "going paperless" should attend Altec's theater session, "'Where in the World is My Document?' Wherever I Am." on Tuesday, April 5th from 5:30pm to 5:45pm. The presentation will demonstrate how doc-link enables data to be accessed anywhere to expedite workflow streamline business practices.
Altec is located at Booth #1015 alongside the Microsoft Solutions Center in the Envision Solutions Experience. Altec staff will be available to answer questions, provide doc-link demonstrations and highlight exciting enhancements such as the ability to capture files and photos from a mobile device to easily index and manage them in doc-link. Attendees can also discuss the product roadmap and future initiatives with Altec Product Manager Merri Jo Cleair.
Merri Jo Cleair comments, "Microsoft Envision will be an invaluable opportunity for us to demonstrate how doc-link affords Microsoft Dynamics users the ability to improve their operational efficiency by easily managing the capture, workflow and management of documents that improve visibility, transparency and compliance in their organization. We look forward to sharing how our latest doc-link developments and product strategy will further improve the user experience."
Altec's Theater Session
"'Where in the World is My Document?' Wherever I Am." (E16STS817)
Tuesday, April 5th from 5:30pm to 5:45pm
About Altec
Altec is a leading provider of integrated document management and workflow solutions. Its flagship product, doc-link™, enables companies to capture, archive, workflow and route any document for any process, anywhere, anytime. Connecting data for thousands of customers globally, Altec also enjoys strong, collaborative partnerships with ERP solution providers such as Epicor, Microsoft, Sage and SAP B1 to provide the most comprehensive enterprise document management solution. Learn more at http://www.altec-inc.com.
# # #