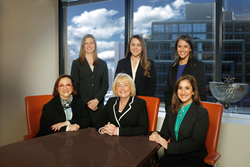 We are at the forefront of our field in staying educated and educating other attorneys of all fields.
Chicago, IL (PRWEB) April 04, 2016
In an effort to educate their peers on the Illinois Marriage and Dissolution of Marriage Act, attorneys from Boyle Feinberg, P.C., including Joy Feinberg and Candace Meyers, presented to the Lawyers Connecting Chicago Group and Northshore Group. "We at Boyle Feinberg, P.C. pride ourselves on not only taking the time to educate ourselves, but our fellow attorneys as well," said Feinberg, who was recently listed as one of The Best Lawyers in America for 2016.
In fact, Boyle Feinberg attorneys regularly educate other attorneys, and are in the process of scheduling additional speeches and setting up meetings with other law firms to present the intricacies of the new law. Feinberg is set to present in late May 2016 at the AICPA/AAML National Business Valuation Conference. She will speak on "Surprising Hidden Tax Issues Impacting Divorce Settlements" and the concept of "Double Dipping in Business Valuation." "We are at the forefront of our field in staying educated and educating other attorneys of all fields," said Boyle, who recently became one of America's Premier Attorneys after being named to The National Advocates Top 100 Lawyers.
Both Boyle and Feinberg were recently recognized as 2016 Super Lawyers, a rating service of outstanding lawyers from more than 70 practice areas who have attained a high-degree of peer recognition and professional achievement. As for Meyers, a partner at Boyle Feinberg who focuses on family law, she is revered for her knowledge and integrity as an attorney, and is also an associate board member of the Anti-Defamation League.
About Boyle Feinberg, P.C.
For more than thirty years each, attorneys Janet Boyle and Joy Feinberg have been providing exceptional legal services and obtaining superior results for clients throughout the Chicagoland and North Shore communities in all aspects of family and matrimonial law. Boyle Feinberg's practice is devoted to the resolution of complex family law cases, by negotiation, mediation or litigation. For more information or to schedule an initial consultation with one of the Boyle Feinberg attorneys, please call (312) 376-8860, or visit http://www.boylefeinbergfamilylaw.com.
About the NALA™
The NALA offers small and medium-sized businesses effective ways to reach customers in the digital age, while providing a single-agency source that helps them flourish in their local community. The NALA offers its clients an array of marketing tools from press release campaigns and social media management to a cause marketing program. The NALA's mission is to make businesses relevant and newsworthy, both online and through traditional media, by providing increased exposure at reasonable costs. For media inquiries, please call 805.650.6121, ext. 361.