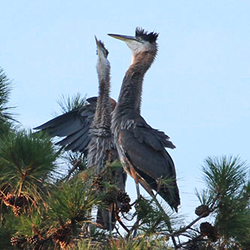 Supply, NC (PRWEB) April 01, 2016
In both spring and summer, and especially at North Carolina's Brunswick Islands, bird is indeed the word as bird species come to nest on the beaches. The five barrier islands that make up NC's Brunswick Islands encompass a large network of bird sanctuaries. From the southernmost barrier island, where Sunset Beach stretches southwest to the protected nature preserve of Bird Island, to the community of Southport and the offshore rookeries on Battery Island, there is no shortage of incredible birding experiences in this area. The attached slideshow offers a glimpse into Spring nesting season on North Carolina's Brunswick Islands.
In addition, the more than 45 miles of undeveloped and under-developed shoreline and the pristine estuaries and salt marshes on the islands' flip-side shelter and sustain a wide variety of shorebirds during nesting season. American Oyster Catcher, Black Skimmer, Plovers, Ibis, Egrets, and Herons are among the spring and summertime residents whose babies hatch here and start the next feathered generation.
Those who visit these pristine coastal communities and barrier islands of North Carolina's Brunswick Islands will understand perfectly why these birds choose to return here year after year to nest.
Come stay a while: Accommodations in North Carolina's Brunswick Islands include bed and breakfasts, affordable flagship hotels, vacation rental condominiums on beaches and golf courses. There are plenty of vacation rental homes that are perfect for family reunions and multi-generational groups. Visit http://www.NCBrunswick.com to view listings by area.
###
About North Carolina's Brunswick Islands
In the southernmost corner of North Carolina is one of the South's best kept secrets. There is definitely delightful life between more well-known Wilmington and Myrtle Beach, and here it is serene and scenic. From the Cape Fear River, reaching down to the South Carolina border, North Carolina's Brunswick Islands beckons softly. Five barrier islands – Sunset Beach, Ocean Isle Beach, Holden Beach, Oak Island and Bald Head Island provide 45 miles of wide, stunning beaches for the perfect beach vacation. Picturesque Southern small towns like Southport, Calabash, Shallotte and Leland draw visitors with family-owned, one-of-a-kind restaurants, galleries and shops to make the area one of the best vacation destinations along the North Carolina coast. Adding a temperate climate ideal for year-round sports, dining, tournaments and festivals along with fun forts, lighthouses and historic architecture, the stage is set for a perfect coastal getaway. Toss in boating, fishing and golfing, and the trip is instantly reminiscent of yesteryear's beach vacation. Families fall so in love with North Carolina's Brunswick Islands that they return year after year, generation after generation.